Mt Rainier was the fourth National Park, established in 1899.  It is the most recognizable feature of Washington.  It can be seen from most of Washington.
Carbon River
On the west end of the park is the Carbon River trail.  This used to be a road, but was washed out, fixed, washed out again, fixed again, and washed out again.  The ranger said the road has washed out so many times the park has abandoned attempts to fix it.  It is now just a hiking and biking trail.   All the park facilities past the washout are abandoned as well.  It served as a reminder as to just how rough the winters are and how quickly things can change.
The road passes through old growth forest where Marbled Murrelets nest.  Murrelets are pelagic birds meaning they spend their time in open ocean.  They only come to land to nest.  Specifically, they only nest in old growth trees because they are the only ones with branches wide enough to support their poor landing abilities.   There are several trails that lead off what used to be the main road and is now the main trail.
The first major campground was Ipsut.  Before 2006, cars and RVs would pull up and car camp. Due tot he washout,  vehicles can't make to this campground. All the parking areas were overgrown and the trail to that point was nice and wide.  This is an access point to the Wunderland Trail (The Wunderland trail is 95 miles and goes around the circumference of Mt. Rainier).  Also nearby is Carbon Glacier.   At 3500 feet elevation, Carbon Glacier is the lowest elevation glacier in the contiguous 48 states.  Because so many rocks and dirt are on top of the melt zone, the glacier melts very slowly.  In fact, is also the longest, thickest, and has the most volume of any glacier outside of Alaska.  Of all the glaciers on Rainier, it has retreated the least.  It made me wonder about efforts around the world to save glaciers and right here nature is saving its own glacier.
Sunrise
On the East side of the park the Sunrise area allows for alpine hiking trails with amazing views of Rainier.  Ironically it's about a two hour drive from Carbon river, but only about 18 miles to Carbon Glacier.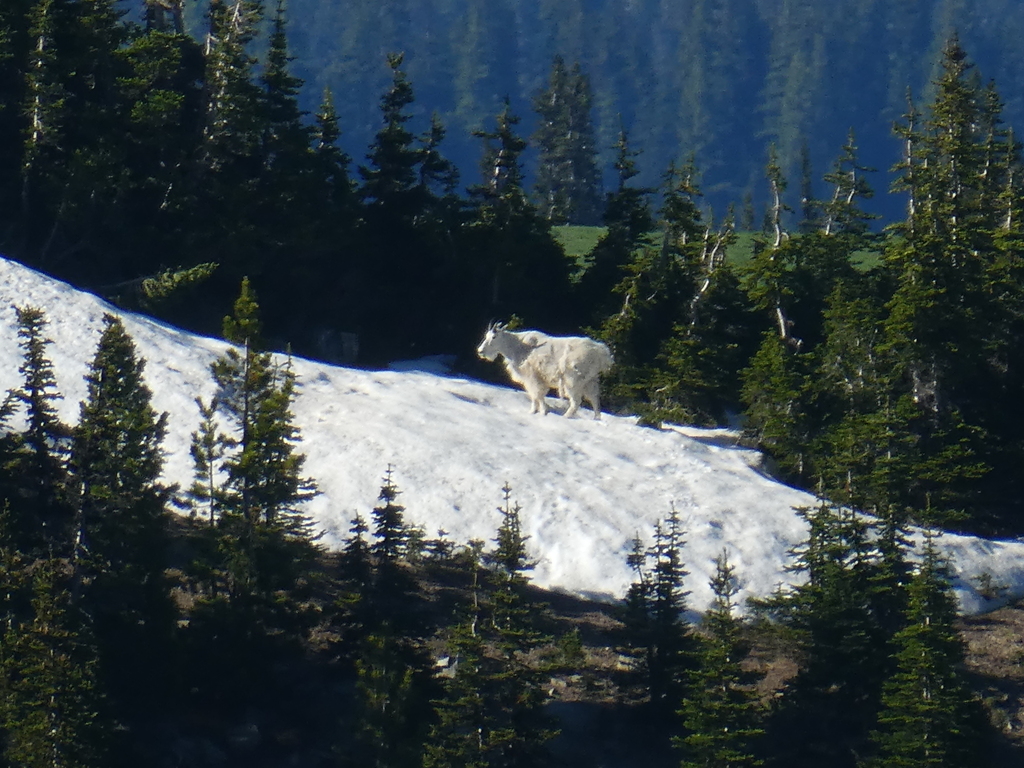 The air is clear and there is such a rich mix of contrasting greens, blues, and whites.
Aside from Mountain Goats, chipmunks dominate the wildlife scene. Baby chipmunks were out in force and one even engaged Kylie in a staring contest.