There were different ways to explore the region. Sharleen and I had such a great experience in 2003 exploring East Africa in an overland truck, we wanted to share that experience with Alyssa and Kylie. Time and location meant some notable differences. East Africa was more secure and less developed at the time. The parks were larger and our transport navigated Nakuru, Naivasha (Our adventures in Kenya)and the Serengeti (Our adventures in Tanzania). In southern Africa there were more security concerns. Our guide Manda shared stories of being followed by vans and lots of petty theft crime. Manda instructed us not to stray from the campsite. It wasn't just our group that was concerned with security. All middle class houses we saw were walled and topped with electic fences in Zimbabwe, Zambia, Botswana, and South Africa. While major stores like Spur and Shopright allowed people to go in and shop freely, they had several guards posted at the door. Most small corner stores had all their inventory and staff behind chicken wire or bars. People had to point to what they wanted behind the wire and the shopkeeper would obtain for them. In South Africa the small township and village markets did not even allow people inside the store to shop. All transactions were consummated outside of the store.
In addition, the overland truck we used did not navigate the dirt roads in the national parks. Instead we transferred to smaller jeeps to explore the parks.
Both overland trips stopped at campsites where we had to pitch a tent. Both trips had a guide, cook, and driver. Both stopped roadside to prepare lunches. And both stopped periodically by bushes for bathroom breaks during the long drives.
Overland travel provided a great way to explore parts of the country we'd miss by travelling by plane. It also provided a different experience than travelling by a bus line.
Then: in 2003 we traveled over 1800km over half of that was dirt road. There was bench seating in this open air transport.

(Roadside Lunch 2003)

Now: in 2020 we traveled nearly 2400 km. We had nice seats in this super secure deluxe transport.

(Roadside Lunch 2020)
Zimbabwe
Driving from Victoria Falls to Chobe National Park was mostly through the Zambezi Valley National Park. It was woodland forest area. It was difficult to see more than 100 meters beyond the road as the foliage was dense (although no where near as dense as the jungles of south east Asia where visibility was at best 10-20 meters). There were no big tracts of ranch or farm land and no fences.
Botswana
The bulk of our overland trip passed through Botswana. Botswana was 600,370 square kilometers which made it roughly about the size of Texas. It's population was 2.2 million. These two facts together means there was lots of countryside and landscape to view and very few settlements and cities. In fact Botswana only has seven cities with a population more than 50,000.
Around Chobe River there were some settlements, but most of them fenced their houses in to protect themselves from the elephants. This area has over 50,000 elephants that wander through borders and land. Being the rainy season, everything was green and alive. It was not great for wildlife viewing, but it was wondrous to see so much green! The air was the freshest and cleanest of our trip and the sky was a glorious blue with puffs of white (except of course when it was raining).
From Chobe to Elephant Sands, the roads were mostly open and flat and we only passed one major agricultural area (joint venture with an Australian group). The large plot was completely fenced with electrified high tensile fencing to keep the pachyderms out. During this stretch we saw numerous elephants on the side of the road grazing or contemplating crossing. We stopped for the first few elephants, the rest became like deer….nice to see, but not worth stopping.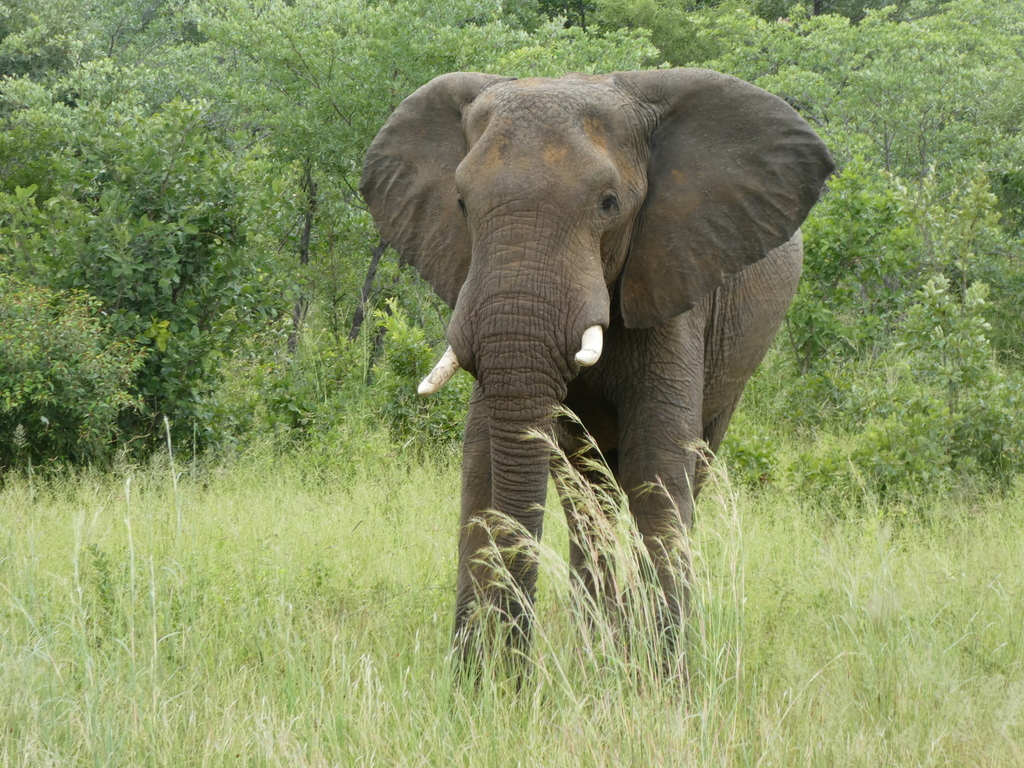 After Chobe we crossed into ranching areas. We started to see more fences. They were mostly there to separate the Cape Buffalo from the cattle. The cattle wanders along side of the road in small herds. Sometimes we had to honk to get the cows off the road. Occasionally we saw some wildlife. We saw a small group of Oryx (Gamesbok) and as we drove through Naxi Natioanl Park we saw ostriches. After seeing an ostrich poop, Alyssa exclaimed loudly: "That is something I never want to see again".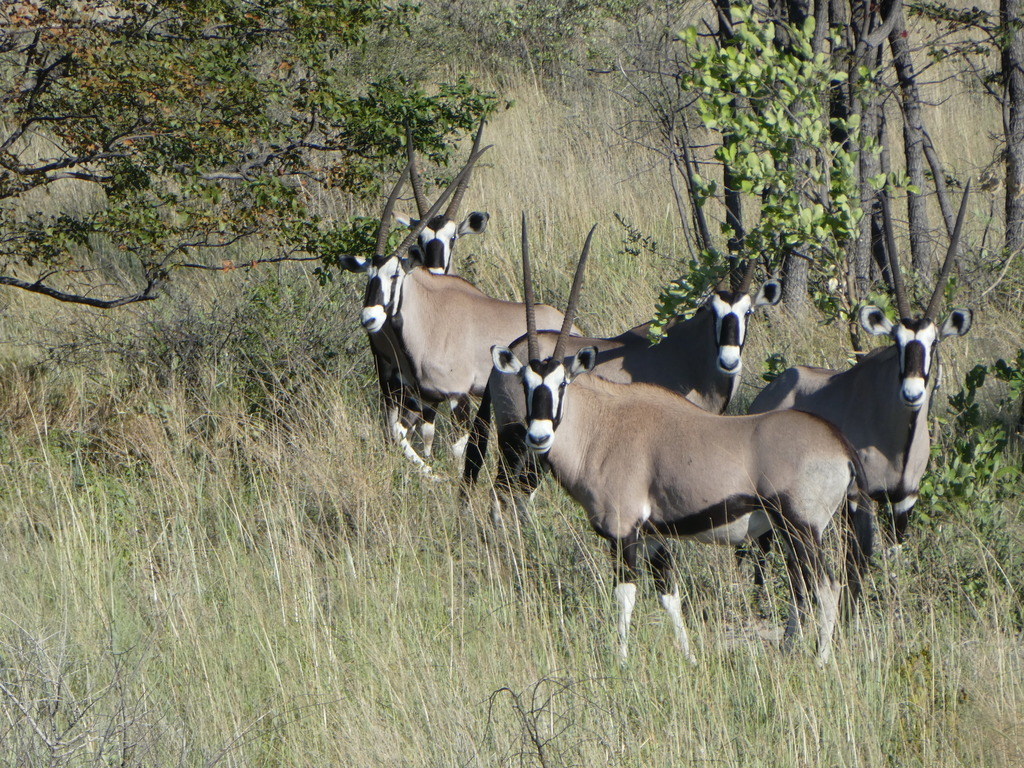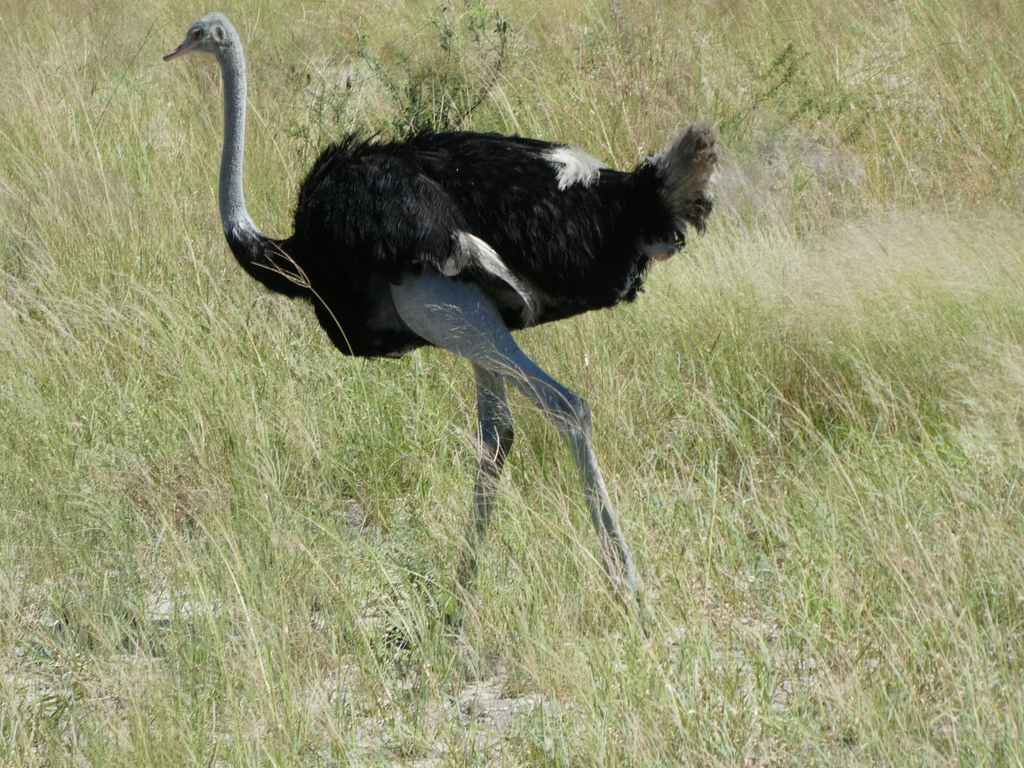 As we moved away from the wildlife areas we started to see donkeys everywhere. Some had their back two feet tied to keep them from going too far, and few where tied together, but the vast majority were free roaming. "Donkeys are transportation and workers. They were also frequently gifts or supplements by the government to the people," Manda said. People just let their donkeys roam, like their cattle, and went and got them when they needed them. The main road was paved; however every once in a while a dirt road went off into the bush to a small community.
As we made our away out of the Okavango Delta we got to see some of the different areas of Botswana. We saw the great salt flats and the Karowe diamond mines. We also brushed up against the edge of the Kalahari Desert. "This place is a vulture paradise in the dry season. There is no water and it's very hot. Many animals die in search of water," Manda explained.
We passed by Khama Rhino Sanctuary. Botswana had a crises with rhino poaching. This reserve was a community effort for sustainable management of the environment and their rhino population. We did not have time to visit, but it reminded me of IMIRE. With 8585 fenced hectacres, guard posts, and security, it showed the massive efforts communities go through to preserve their natural world from horn poachers.
In Palapye we saw Botswana's coal mines and coal powered electric plant. It was the first time in months we had seen coal burning.
South Africa
We crossed the border into South Africa by crossing the Limpopo River. This was Africa's eighth longest river. It divides South Africa and Botswana and eventually flows into the Indian Ocean. I strained out the window to catch a snap shot as we were not allowed to stop on the bridge. My childhood was filled with stories. One in particular was Kipling's the Elephant Child which was about the great grey-green, greasy Limpopo River. As we drove over, Manda explained that as the economic crisis hit Zimbabwe, many Zimbabweans tried to swim the river and thousands lost their lives to crocodiles.
From here we stayed outside of Pokolwane, the capital of Limpopo province. There were many middle class homes, light industry, and commercial ventures. Outside of the city there were acres of commercial farming: tobacco, maize, soy, and oranges. The craggy mountain outcroppings were occupied by platinum mines.
Driving to Kruger National Park we headed through the Mpumalanga Panoramic Route where we got to view Blythe Canyon. Sadly, the workers were on strike so we couldn't go to the highlighted viewpoints. However some of the views were great! From there we headed up through Graskop and hit huge tree plantations that were used for paper production. Finally, we descended into the west gate of Kruger — Numbi Gate.
The last leg of our journey took us from Kruger through the rich savanna crop land outside of Johannesburg. Every shred of land was being used either for growing or mining. We passed by settlements created by Nelson Mandela. "His goal was to move people out of the townships. He set aside land and built government housing. People could apply and move there. However most people obtained their house, then sold it. They were not used to paying for electricity and services and wanted to cash out instead. In the townships no one pays for the services, many obtain utilities illegally." Manda explained.
It was a massive area of territory. We covered over 2500 kilometers of national park, ranch and farmland, desert, cities, villages, and towns, as wells huge tracts of unused land. It was a great way to experience and get a sense of why this area was so special.
The People
Part of what made the journey so great was the people. Manda our guide was from Zimbabwe. He had been a guide for 13 years and seemed to know everything about everything. As we passed from one area to another he'd describe which tribe and language was used and the history behind settlements. Around the dinner table he always had great stories of past adventures, whether it was his boat being attacked by a hippo or crocodile, to people dying on hikes after being attacked by elephants. He also related stories about some of the crazy people who travel across South Africa. He was a warm and gentle soul who treated us with kindness and respect.
Martin cooked the meals. He let Kylie help and was always thoughtful about preparing a well balanced meal. Also from Zimbabwe, he would also chime in about some of the challenges in Southern Africa. He had some stories of his own but as he was usually up first, he was also the first to go to bed.
Francis drove the massive truck. From South Africa, he had been working as a team with Martin for some time. He was energetic, funny and kept Kylie on her toes.
Even though the truck fit 25 people, there were only 6 travelers. This made it cozy and spacious. Rosemary and Carol were twins from Kenya. Boisterous, funny, loving, and deeply set on living it up, they livened up the trip quite a bit. They were celebrating their birthday and included everyone in the celebration. They braided Kylie's hair, talked fashion with Alyssa, and shared stories of their life in Nairobi. They talked about Kikuyu customs. Rosemary explained how dowry negotiations work and how many cows and goats were expected. She explained that aside from livestock, there has to be blankets and sugar and a variety of other offerings every time the husband visits the in-laws. Further dowry was paid over time and not necessarily all at once.
I was especially happy when Carol and Rosemary who were successful business owners in Kenya talked about their business and what it took to run it. They both were positive influences for Kylie and Alyssa.
Manda and Martin, who were both Shona, chimed in with similarities and differences in their cultural practices.
We talked about Kenya's Mau Mau rebellion and how Carol and Rosemary's grandmother had taken part. Although the rebellion was not a successful revolt, it did hasten Kenyan independence from Britain (more here). Something of Value, by Richard Ruark explored what happened when colonists took from the Kikuyu indigenous community and failed to replace with with something of value. Rosemary and Carol relayed stories of colonization and its effects and how her grandmother had emerged with land to pass down to her progeny.
It was also interesting to eavesdrop on the conversations between Manda and Rosemary and Carol. They explored the differences between their cultures as well as the Xhosa, Swazi, and Zulu cultures. The discussed land ownership and village politics. It was eye opening and refreshing. It was a privilege to get so many perspectives in our 11 day camping safari.