We stopped at Situnga Camp run by Delta Rain just outside of Maun. This was a fenced camp and provided a little more security during the night time. Situated under a canopy near the river, there were plenty of birds to enjoy. This was also our launching point to the Okavango Delta. We left early in the morning by jeep. It traveled to the village of Matsaudi where we turned off the highway and onto a dirt road to the mokoro boat station. The truck bounced around the road giving us an "African massage". We were here during the delta's wet season which means rains cover the general area. However, it floods during the dry season from the rains a few months earlier in Angola and had finally reached the delta. The Okavango Delta is the largest inland delta in the world. During the dry season, when the delta floods, it becomes a haven to animals near and far. Again, being here during the wet season, we managed our expectations.
It may also be disappearing. There has been less rain every year since 1981. Some blame climate change, however others are calling it climate variation. Regardless, the effects are less rain and less flooding (Click Here). It had been declared a UNESCO World Heritage Site. I was glad we got to experience it with the girls, even in wet season when we had reduced chances of seeing wildlife.
Our jeep arrived at Mokoro station. This was one of the places where tourists congregate for their delta experience. Here tourists can charter boats for the day or for an overnight journey. The Okavango Polers Trust manages the affair. They maintain a registry to make sure that local community members go in order to poll tourists into the delta. For this small community, tourist money brings in substantial income and they've organized it to be as equitable as possible. Our head poler Jonah gave us the instruction:
Don't wobble
Stay Seated
Don't drag your hands in the water, it attracts creatures in the water
If there is an emergency, I will tell you what to do.
There were two people per dugout plus luggage. Our poler, TT had a bum leg and walked with a limp. The polers varied from young women, to grandmas, to able bodied young men. The poler stood in back and pushed the boat through streams, reeds, and hippo pools. From time to time we caught the attention of a male hippo who give his laughing grunts letting us know that this territory was his. It was one thing to see a hippo from a large boat, it was completely another to be at eye level with them!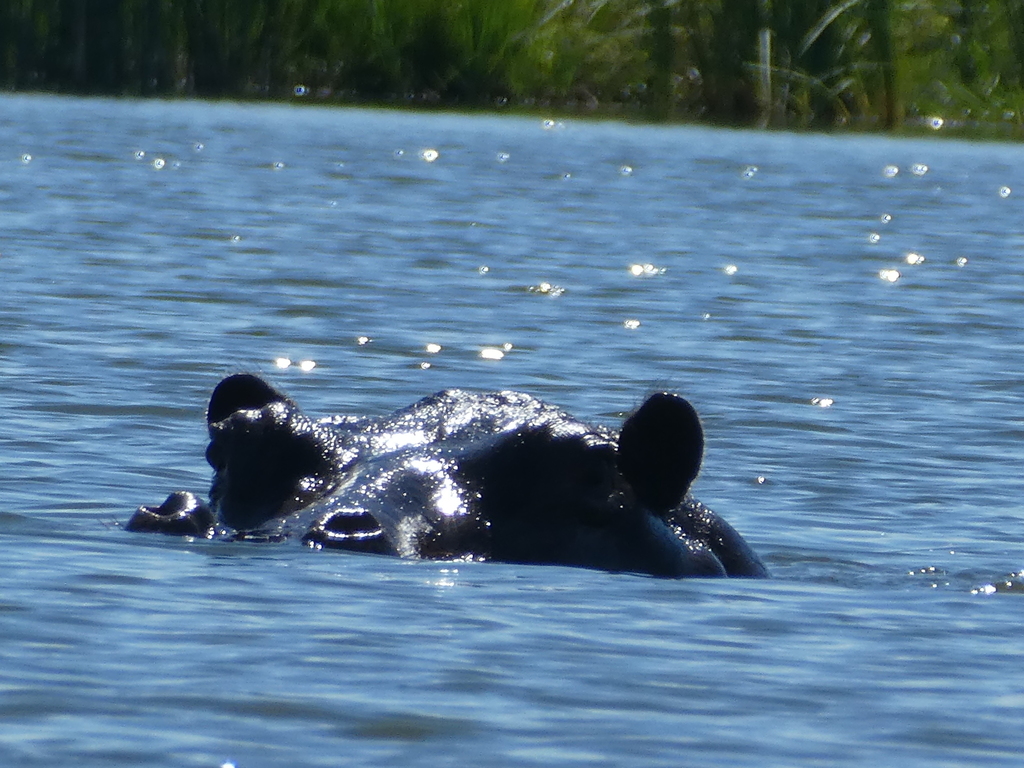 The sun was punishing, and even though it was morning time, it was blistering hot.
We arrived at our bush camp destination. Delta Rain had already set up the tents and organized the campsite. Jonah gave us another safety talk. (He pronounced safety with three syllables).
"We are in a wild area, do not walk beyond the tent ring in that direction and you can only walk 20-30 meters towards the water. You are safe in your tent. But you must zip it up all the way every time. There are many things that will bite, spiders, ants, snakes, and other creatures. Leave your tent zipped up. At night, there is no night time activities. Use the bathroom behind your tent. If you hear noises at night, do not shine the light, stay in your tent."
The directions were pretty clear and ominous.
Alyssa tried her luck at poling. It was confusing because pushing was done in the opposite direction of where she wanted to go. She kept her balance and didn't fall in!
Alyssa and I opted for an evening walking safari. Jonah gave us some instructions before we left:
Walk in a single file line.
When I put my hands up, everyone stops.
Minimal talking please. Respect the nature walk.
If we approach a thicket, no one talks.
Do not run. I will assess the situation and give instruction.
We started off into the bush. We walked through the shrubs and the land opened into grasses and reeds. Hippos grunted in the background while Jonah showed us buffalo and giraffe tracks. There was plenty of elephant dung and antelope tracks as well. We came across the carcass of a juvenile giraffe. From time to time, Jonah would stop and look through the binoculars.
Perhaps the most interesting part of the walking safari was learning about termites. Their mounds were everywhere, rising up and tilting slightly like a witch hat.
"The mounts always tilt west. It helps them regulate temperature in their colony."
Some of the termite mounds were absolutely massive. Jonah estimated some to be more than 100 years old. However there are reports of termite mounds being as old as 2000 years in Africa (Citation).
"When we build our mud brick houses we like to us the soil from around the termite mound because it is very tough." Jonah told us.
The walking safari was not very plentiful, but it was great to be out walking away from people and in nature. We walked for nearly three hours. We did see some zebras, Red Leche (according to the IUCN Red List the Red Leche is near threatened), warthogs, spur winged geese, impala, and a giraffe. The sunset was amazing. During the flood season, well over 50 percent of where we walked would be covered in water. Part of the reason there were so few animals, Jonah explained, was that a pride of lions moved through a few nights ago and scared a lot of the animals out of the area.
Martin made a very filling meal for dinner. Over dinner, we had an interesting conversation about the Botswana. It turns out the Botswana government actively provides assistance for its people. In addition, it has several support programs to help people transition from nomadic to agrarian lifestyle. They'll supply some goats or cattle to help get a bushman started.
"In many other places, when governments move indigenous populations to a more settled and modern lifestyle, they have done so under the guise of taking more than they give. Is there concerns that Botswana is doing that?" I asked.
"I don't think so" was the unanimous feelings from the Kenyans, Zimbabweans, Botswanans, and South Africans who shared dinner with us.
"Botswana does a better job providing assistance for its people than most other African nations." They explained.
We all took a sunrise walking safari the next morning. The light was amazing. Hippos were going to and fro and the birds were leaving their roosts.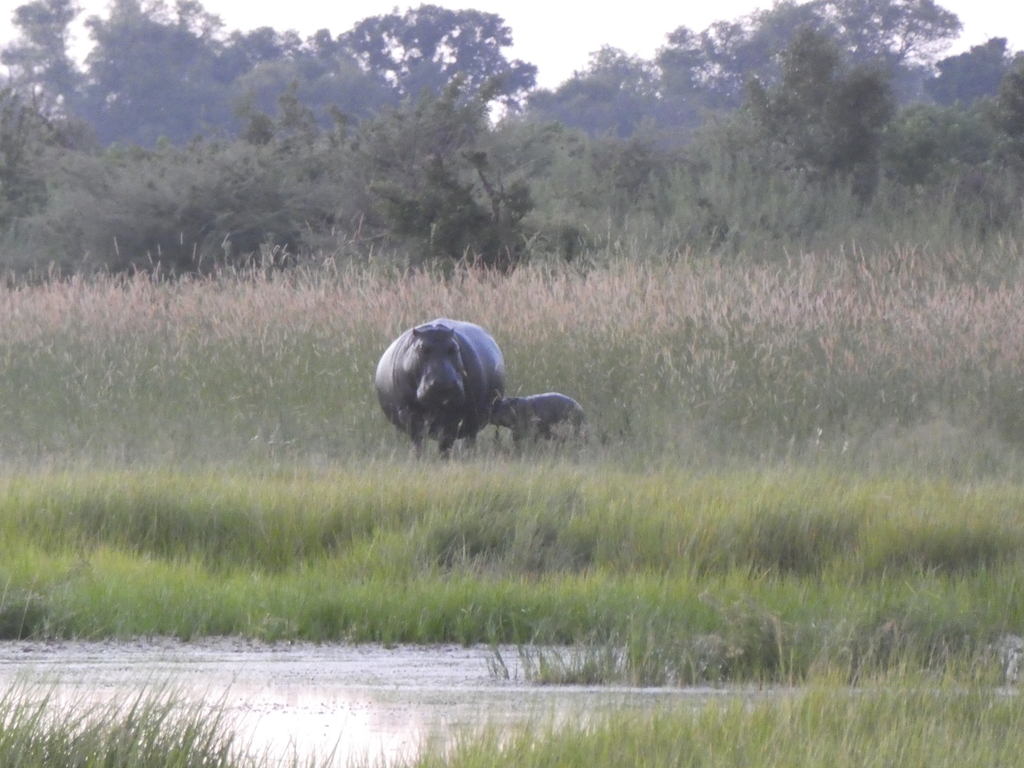 We came across a zebra carcass and more termite mounds. We saw lion tracks and heard one in the distance, but we didn't see one. During the night, hippos took over the pool in front of our tents. It was wonderful to see hippos moving about. Their world is changing as well. Due to habitat loss and climate change their territory is shrinking. They have been listed on the IUCN Red List as vulnerable.
Rosemary's comments about the morning walk were the best: "I did not trust Jonah at all. That man didn't have a gun, not even a stick." Being from Kenya, their walking safaris usually have a ranger with a gun. We were really exposed, but no one's been killed yet, and we made it. Jonah explained that he and his people have been living with animals in the delta for a long time. "Depending on the animal and the situation we do different things. Sometimes we stay still, sometime hide behind a tree or rock, it all depends on the animal and the situation." It all sounded very reasonable. Fortunately, we never had to put it to the test.