Ranthambore National Park was established in 1980 after being a game preserve. Today it extends nearly 1330 square kilometers. With over 63 confirmed tigers living within the park, if we were to see a Bengal tiger, this was our best chance! Recent protections for tigers and animals have resulted in a rise in tiger populations across India from 1411 in 2006 to 2967 in 2018 (great article click here).
Getting into the park proved to be more tricky and difficult than parks we had been to in the past. It appeared that we were not the only ones who wanted a chance to see tigers. The Indian government has instituted a quota system and an online booking system to fill those quotas. In a perfect world, a visitor decides they want to go to the park well in advance of their date, goes online and finds availability and books their ticket (Do that here and click on SSO login). When I created my account and tried to book my ticket a month in advance, I found the only available tickets were in March. This was a problem, as we were scheduled to be Ranthambore on December 27 and not March. After contacting many tour operators we found out what really happens. There are a fixed amount of jeeps (seating six people), and canters (seating 20 people) allowed into each of the 10 park zones for either an AM or PM safari. Although one may think it reasonable to ask: "What is available, give me that", that is not how the site is set up. One must specify the date, vehicle type, time of day, and zone. In other words there are 40 different combinations of checks one must try for on each day to determine availability.
Only fifty percent of the quota is availability for advance booking. The other portion is available for current booking at 10AM the morning before the date of safari. This leads to a feeding frenzy during busy times of the year, like the time when we were there. We asked eight operators in a panic as our arrival date approached. There was no guarantee that we would even get tickets. We arrived on Friday, and found out Friday night that were were lucky enough to get a ticket for a Saturday AM jeep safari in Zone 3, considered by many to be one of the more spectacular zones. When I met Mr. Arvind at our hotel he pointed out: "You are very lucky to get this ticket, I had 7 people trying to get these tickets when the website opened at 10AM. It is a very busy season right now."
Zone 3
At 6:30 in the morning our jeep picked us up and sped towards the park. In the fog and wind, the seven degree celsius weather felt even colder. We went through two security gates and started our safari, shivering. We entered through the Jogimahal Gate.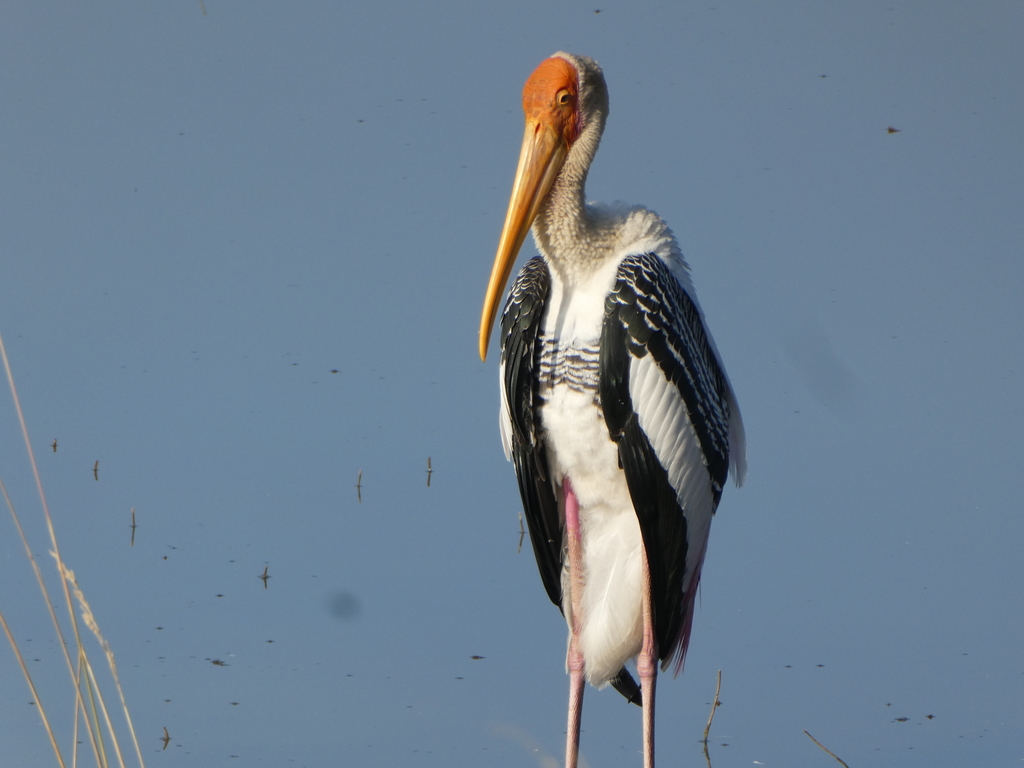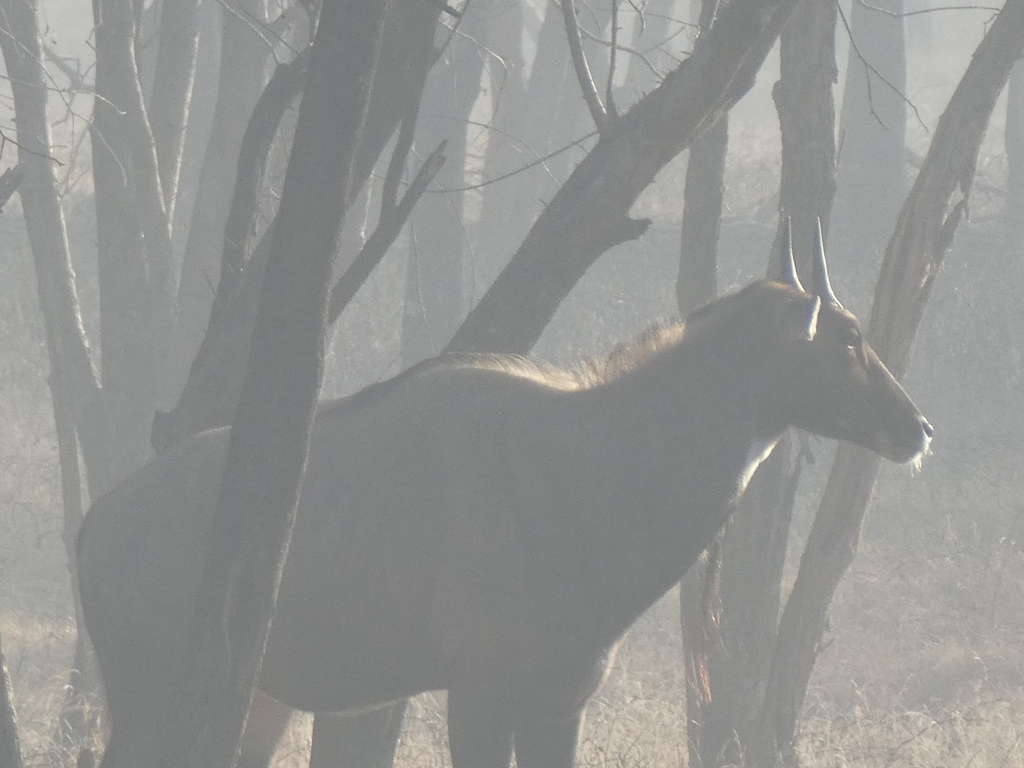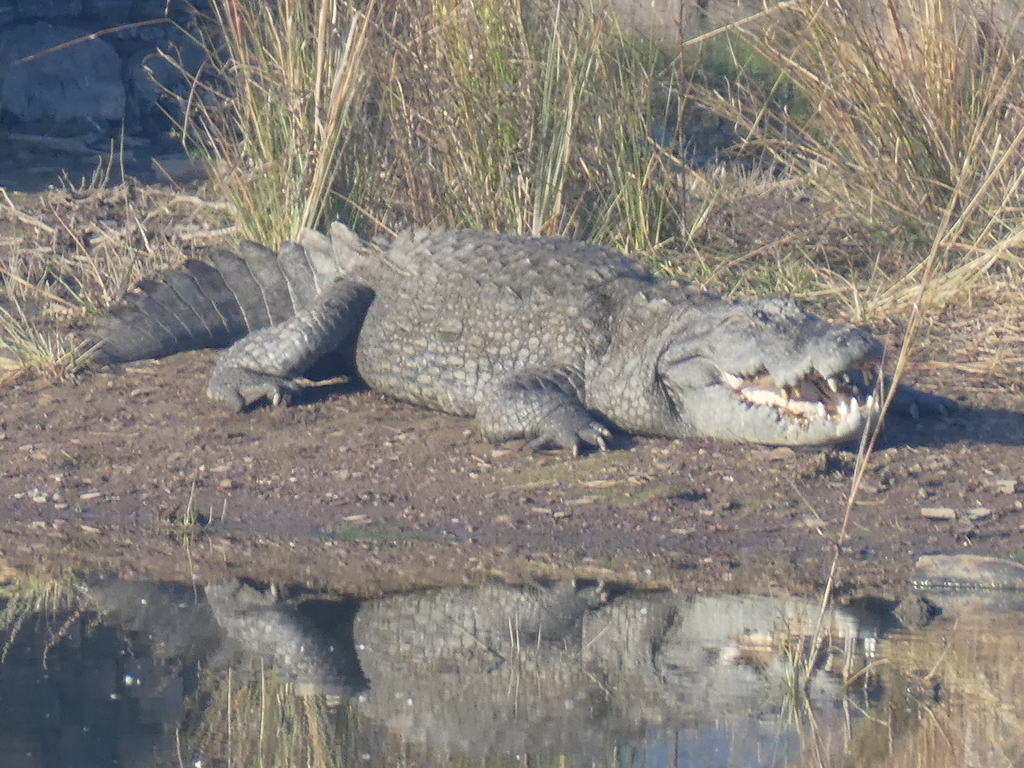 This zone was stunning. There were highland and lowland forested areas with a giant lake. In the middle of the lake, a small abandoned building made a good perch for birds. Ranthambore Fort was perched on the edge of the cliffs behind the lake. The view was amazing!
Filled with a mix of disappointment that we didn't see a tiger, cold, and amazement at the wonderful things we did see, we gobbled down some lunch and tried to warm up. We found out, with one hour to go, the we had also gotten a ticket for a PM safari that same day. We hustled to get ready.
Zone 1
Our guide and operator told us this was a premier zone. In fact according to the statistics (Click Here), zones 1-6 see more tiger sightings than all the other zones. I had been watching the real-time-not-so-real-time tiger sighting statistics, and saw that only 2 tigers had been seen in the last 7 days, and neither of them were in zone 1. We were still hopeful as our guide while talking it up, also made it clear that only 1 in 7 safaris result in a tiger sighting.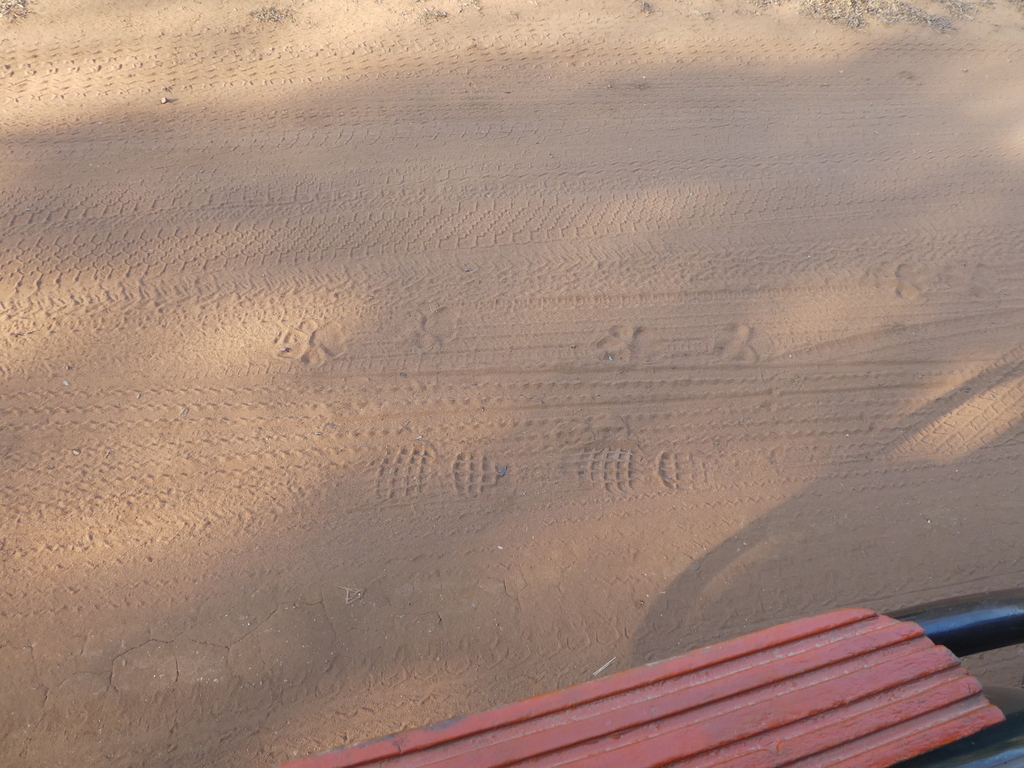 In Zone 1 we saw much more sambar deer, a tiger's favorite food. This deer is on IUCN Red List as vulnerable. Like most creatures we saw in Asia, it's habitat is shrinking.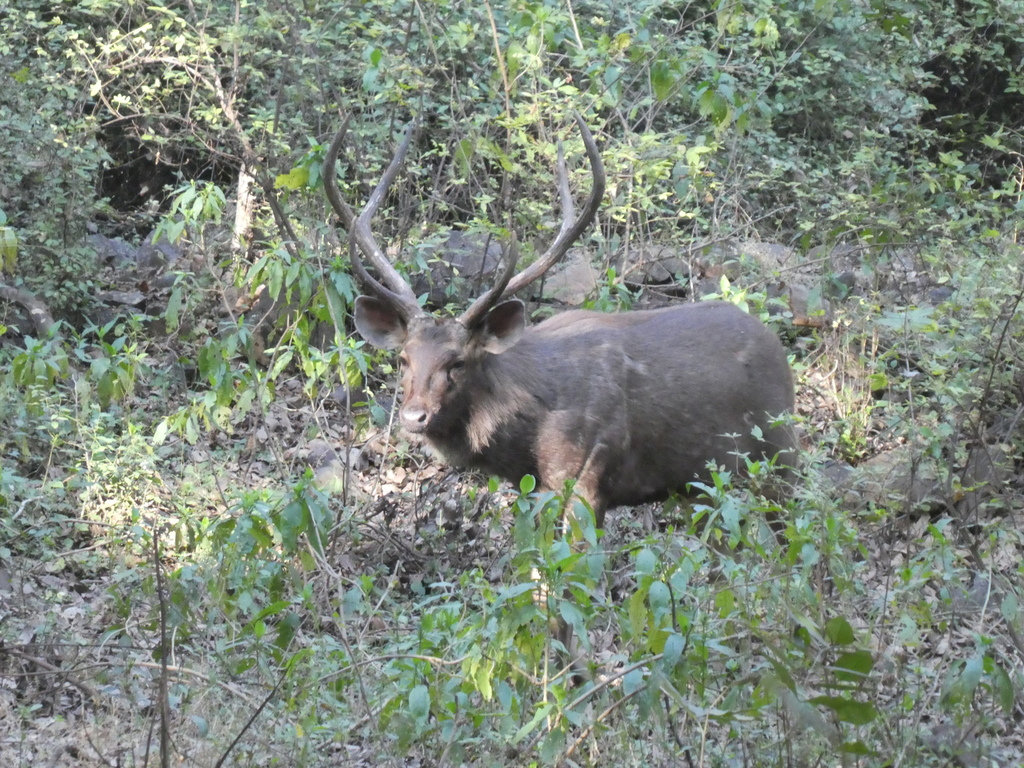 It was mostly forest area with a small lake created by a dam. There were more amazing birds to see, and it was certainly warming in the afternoon than in the evening. But secretly we were all sad that we didn't see a tiger.
Sawai Madapur
When the park was created in 1980, 12 settlements that were within the borders of the park were "resettled", some of them helped fill the population of Sawai. Like most tourist towns, there was town and then the tourist area. Due to the cold and our brief time here we did not explore town, but just the tourist area. In a few mile stretch of road there were dozens of hotels, a hospital, and only a few eateries. Most people eat at their hotel. Aside from stray dogs and cattle, there were stray pigs. It was unclear whether these pigs were ever domesticated or Indian Wild Boars that were tire of the country life and wanted some city living. Regardless, it was hard to walk without cattle, pigs, or dogs hustling by. When people were bringing supplies into their hotel, cattle or pigs would sneak up and try to eat them if they weren't being careful. Mostly however, they could be found rummaging through the piles of garbage strewn on the sides of the street. In some cases I saw cows reaching in to rubbish bins looking for something tasty.
The process details and other kernels of information
Aside from gypies and canters, it is possible to hire a private jeep for ~$450 per jeep. This is what we were quoted. There were quotas for these as well. They too were restricted to 1 permitted zone.
If someone has connections, they can get a special jeep safari that crosses zones, but this requires special ministry permission.
A Canter in a good zone is better than a Gypsy in a bad zone.
| | | |
| --- | --- | --- |
| vehicle type | Foreigner cost on website | Foreigner cost through a tour operator |
| Gypsy (Seats 6) | 1400 Indian Rupees | 3000-5000 Indian Rupees |
| Canter (Seats 20) | 1800 Indian Rupees | 2000-4000 Indian Rupees |
Don't bother emailing anyone on the park site, you won't get a response.
It was hard not to be suspicious about the entire process. We were told it was a busy time, everyone was at 100% capacity and we had "less than 1% chance of getting tickets on such late notice due to the incredible demand." However, we saw several canters that were not full. Our hotel was not fully booked. Also our jeep in the afternoon ran around for 90 minutes outside the park trying to find more people to fill it up. Was the demand real? Was the extra amount we paid to have someone acquire entry tickets worth it? Or was the demand driven up by hotels and intermediaries that gobble up tickets at the government price and then auction them off at mark ups to people who can't get tickets through the website?
Even though we were disappointed about not seeing a tiger, we had some very memorable experiences!
Ranthambore
A UNESCO World Heritage site, Ranthambore was a phenomenal looking fort we did not visit. At one time the entire area below the fort was the royal hunting grounds for the maharajahs of Jaipur. Activity in the fort dates back to between 900-1100 AD.
In 1973, when India's tiger population dropped below 1800, it became a tiger preserve and later a national park.
By the Jogimahal gate was a small visitor center that no one visits. Inside were a bunch of placards about the park and the wildlife within. The room mostly housed pigeons as the floor was covered in pigeon poop and the placards were covered in dust.
Whatever befalls the earth befalls the sons of the earth. Man did not weave the web of life, but is merely a strand in it. Whatever he does to the web he does to himself. -Chief Seattle 1854
The placards were informative and outlined both successes and challenges to the park. In effect the human population outside the park continues to grow along with the livestock population. Both people and livestock regularly intrude into the park to gather wood and graze. Excessive tourism to see tigers and for religious pilgrimages to the Ganesha temple within the park, also strains the park's ability to stay wild.
While according to the tiger census in 2018 Rajistan had 69 tigers, and India had and over all 2967 tigers, several states within India have lost their tigers altogether (click here). Will the second most populous country on earth be able to find a balance between human and tiger population growth?