A small island of the coast of Thailand's southern peninsula was on our visit list. Koh Mook was a short ferry ride from the mainland. From there we took tuk tuk from one side of the island to the other. There was a short tropical rain on the way (which meant a 5 minute downpour).
It was over by the time we reached the other side of the island 2.5 KM away. Koh Mook at its longest is 4.3 KM long and 3KM wide. There are a few narrow roads mostly filled with scooter and foot traffic. Half the island is a national park (Hat Chao Mai National Park or Had Chao Mai).
There were plenty of places to stay ranging from resort-like and pools to bungalows and few services. Our place was just 200 meters away from Charlie Beach. Sitting on the veranda of our place was amazing. The trees were filled with macaques, oriental pied hornbills, bulbuls, sunbirds, and myna birds. The sounds were incredible. There were of course a bountiful lot of mosquitoes which made the girls suffer.
Koh Mook still has a very small town feel. There are only a few roads through the island and they alternate between cement slab and dirt road. There are also quite a few abandoned resorts. The big one at Charlie Beach was closed down because it didn't follow zoning regulations. There were quite a few other half built or abandoned bungalows. There were also at least a dozen resorts in the process of being built.
Had Chao Mai National Park
Exploring this park by foot was a challenge. There was one path, and I didn't find it until the last day. However I walked extensively around the island through the villages bordering the park and up through the acres of rubber tree plantations around the park. I enjoyed the birds I saw. I think my favorite surprise was the crimson sunbird.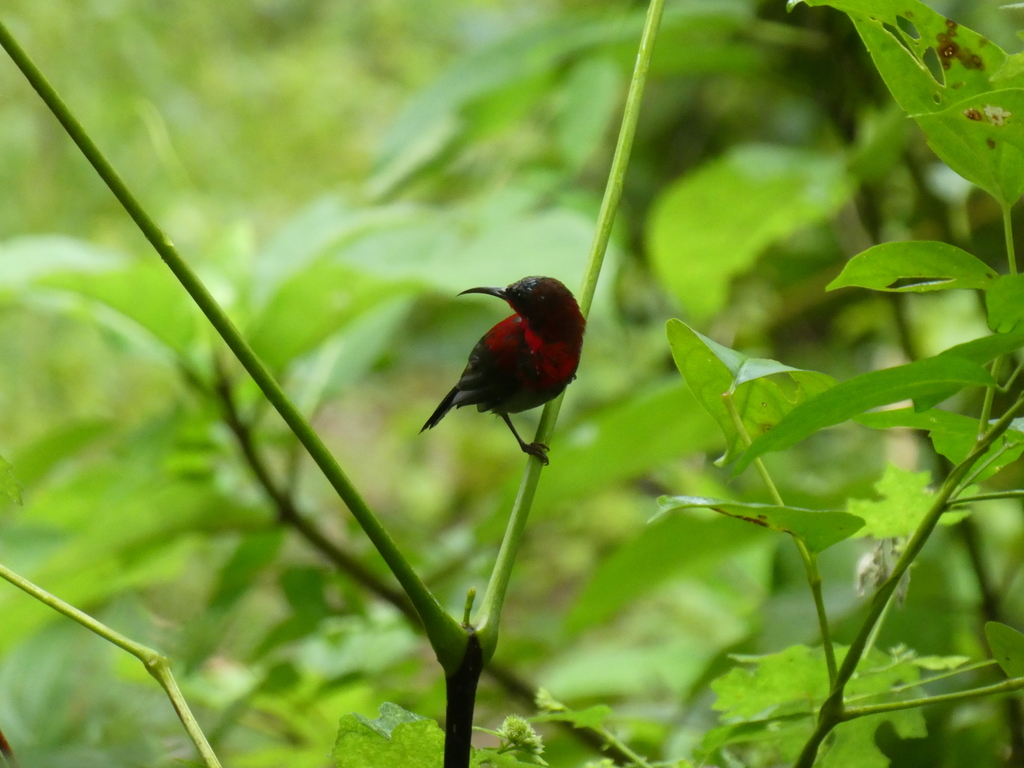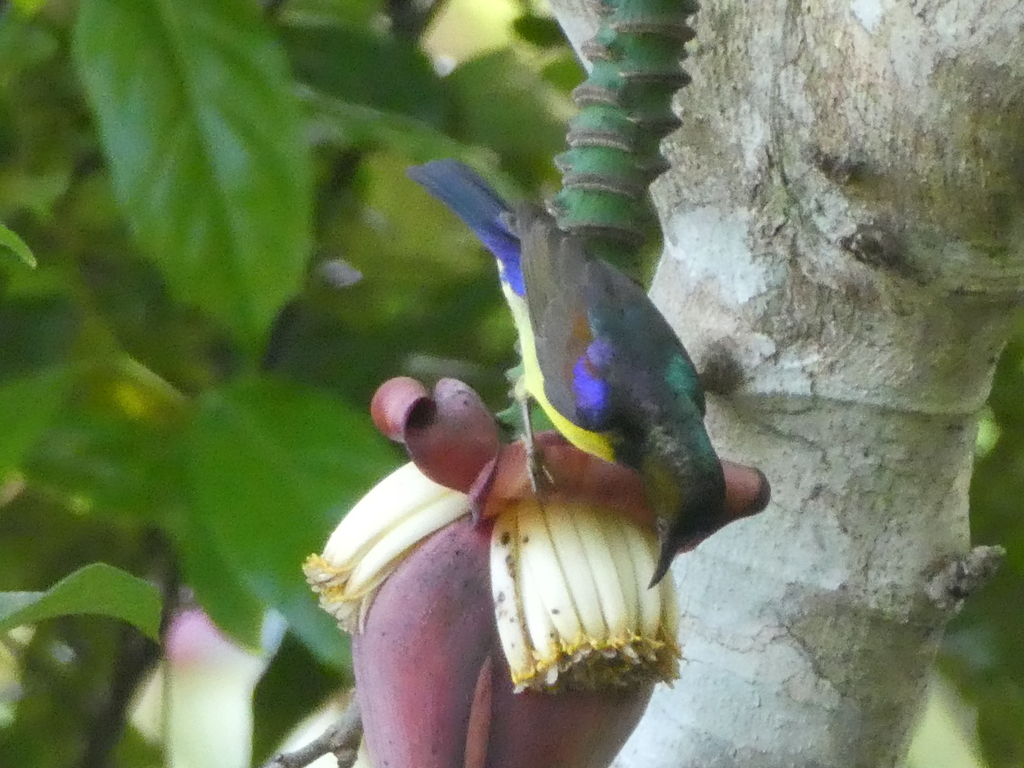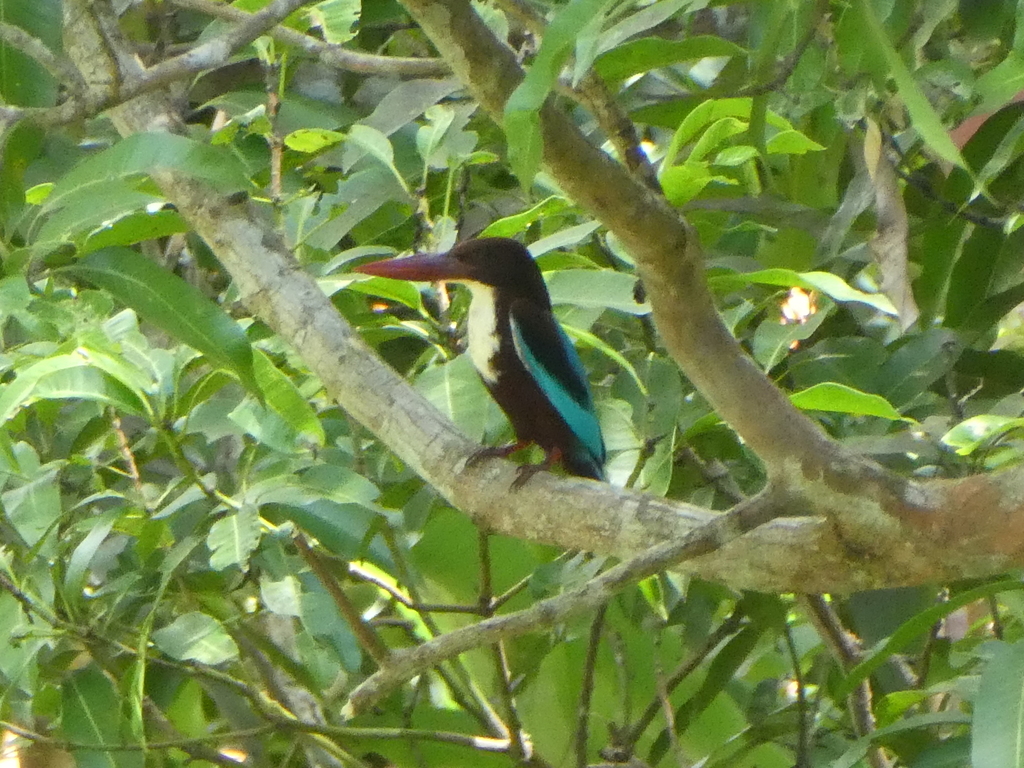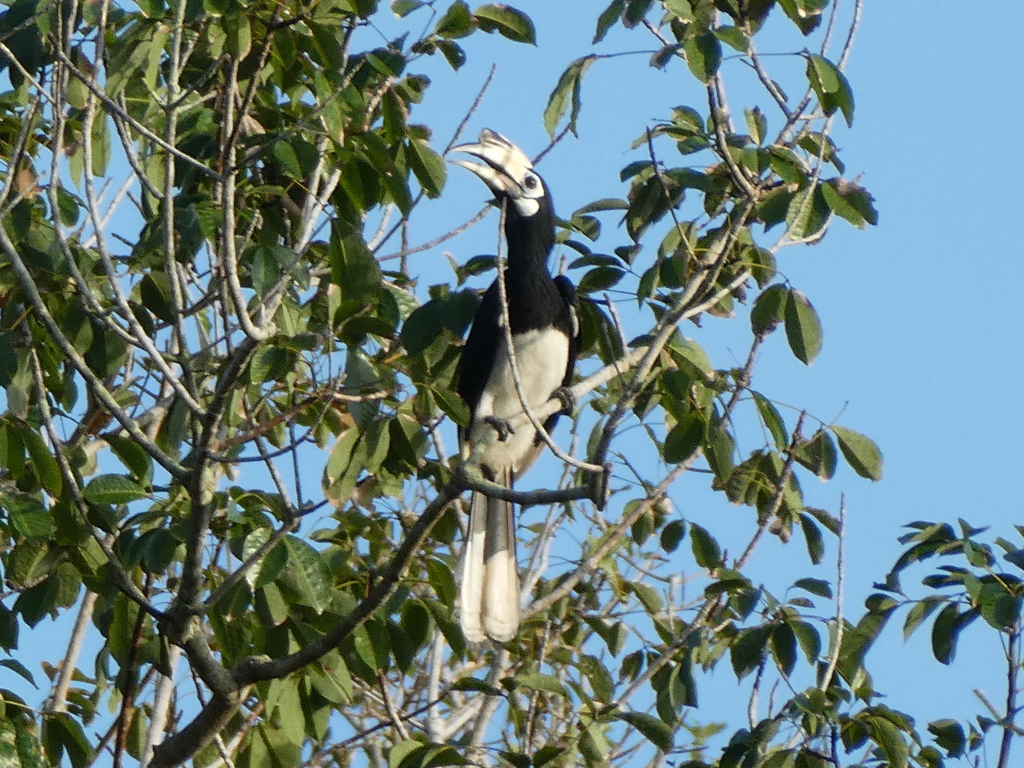 Best food in Thailand
Most places to eat were someone's kitchen. Just outside our place was the Waterside Restaurant. She had tables and chairs in front, a kitchen and bed in the back. Prices were higher than on the mainland and we expected this. However the food and portion sizes at this place were awesome. She did all the cooking, and we never left craving more. Most of the time was waddled out complaining about how full we were and how wonderful the food was. No matter what we ordered, it was plentiful and delicious. It was the perfect place to have Thanksgiving. We went around the table and itemized that which we were most grateful for and ate heartily.
Merkot Cave
We rented a pair of kayaks for the day and headed north to explore Had Chao Mai National Park by water. An hour up the coast we entered Tham Morakot (Emerald Cave). We timed it so the tide was low, otherwise we wouldn't fit. We paddled the 80 meters through the cave, emerging into a secret cove. We pulled our kayaks up on the beach. The warm turquoise was stunning. The cove was nearly 50 meters deep with towering limestone cliffs going up 100-200 meters all around. The cave was the only way in and out.
I have always been a fan of waking up early, and this was one of the reasons why. Arriving 30-40 minutes ahead of all other humans meant we had time to enjoy the area all to ourselves. Crabs walked along the walls or tried to hide themselves in the sand. Clams fed, and fish swam. We marveled at nature's stunning beauty until groups of tourists started to arrive. We exited the cave about 2 hours before high tide and had to duck our heads a little to get out.
In the hidden cove there is a placard that reads:
Morakot cave or "tam Nam", a local name has an entrance which is narrow but wide enough about 80 metre long. The local people used to come here first for the bird's nest. Because in the past there were many swallows. Later the Pirates brought all the valuable that were robbed and kept in the cave for a while before remove it to store elsewhere. When you looks around it look as if you are standing in the volcano….
Sabay Beach

We worked our way up the coast to Sabay Beach. Again we arrived to find the empty beach and had it all to ourselves. It was a perfectly secluded tropical beach. Jungle in the back, turquoise waters in the front. Bubbler crabs filled the beach with small spheres of sand that felt interesting when we walked on them.
Walking around in our own private tropical paradise was amazing. But it couldn't last. In total, we saw less than a dozen people. I feel asleep on the sand while Kylie and Alyssa played. Sharleen sat in the shade near the surf. It wasn't a bad way to pass the day.
Sunset at Farang Beach
Good bye Koh Mook, so thankful to have visited this pretty island.
How we did it
The shuttle from Khao Sok to Trang was 650B per person. We would have had to have paid for a taxi for the last 50KM. It was cheaper for us to hire a car to take us direct to the Hat Yao Pier. Transport by long tail boat was 100B per person across the straight to Koh Mook. Although the island is small and we could have walked, we took a tuk tuk. All tuk tuks are 50B per person. (It is about 2km from the pier to Fardang Beach (a.k.a Charlie Beach). Once on the island there are plenty of operators who are willing to sell day trips and tours. Kayak rental was 100B per hour or 500B for the day.