Getting to Ta Van was an adventure. We crossed the Chinese-Vietnam boarder leaving Hekou and entering Lao Cai. There were several delays. Multiple Chinese officials stopped me and asked me questions, snapping pictures of me or of my passport. Once we made it through immigration, we had to catch a taxi to the bus station. As we were late, he chased down a local bus and we squeezed on board with a bunch of boxes and other cargoes. It was an hour bus ride into the mountains on a windy steep road. Once in Sa Pa town, we met up with Cho Cho's son. Her son taxied us down a winding dirt road into Ta Van, where Cho Cho's daughter-in-law guided us for the 20 minutes up through rice fields and back yards to Cho Cho's house.
To say Cho Cho is a special lady is an understatement. Her family's house was located on the rice terraced hillside of Ta Van. After weeks of crowded metro trains, buses, and city life, this was just what the doctor ordered. We could not have asked for a better or more beautiful bucolic location. The steep valley wall overlooked rice terraces after rice terraces enveloped by a bamboo forest. The harvest finished several weeks ago, and the buffalo were freely roaming the rice paddies – fertilizing and weeding.
Cho Cho's house was a simple one. Cement floors with wood slats blocked the wind. There was no insulation. Her deck overlooked her rice fields. There were single bulb lights that hung from each room. A hose came down from a mountain spring to fill a tank. When the tank was full, the water ran out a hose that was used for laundry, washing, and cooking. The run off from that filled her top terrace, filled taro plants, then overflowed to her other terraces. Along her porch, hung hammocks and bamboo railings for drying clothes. She used an open fire in her kitchen. When cooking, it became more of a smokehouse. Bags of rice and other food stores were soot colored. Her beds were wide, comfy, and adorned with traditional HMong weaving. Beds had mosquito nets.
Three young dogs ran around. Occasionally they barked at the buffalo, snake, or a rat, but most of the time they spent sucking up attention from Alyssa and Kylie.
Cho Cho offered treks through the mountains and the rice fields, but we were content lounging and taking it all in when we arrived. In fact, we didn't see her when we arrived because she was finishing a 5 hour trek with a group of French travelers.
Self Explore
We did some self explorations of the forest and the rice fields around the house. Everyone was welcoming and did not seem to care the least that we were traipsing through their land.
Sharleen and I found a crab that had a face of a snake.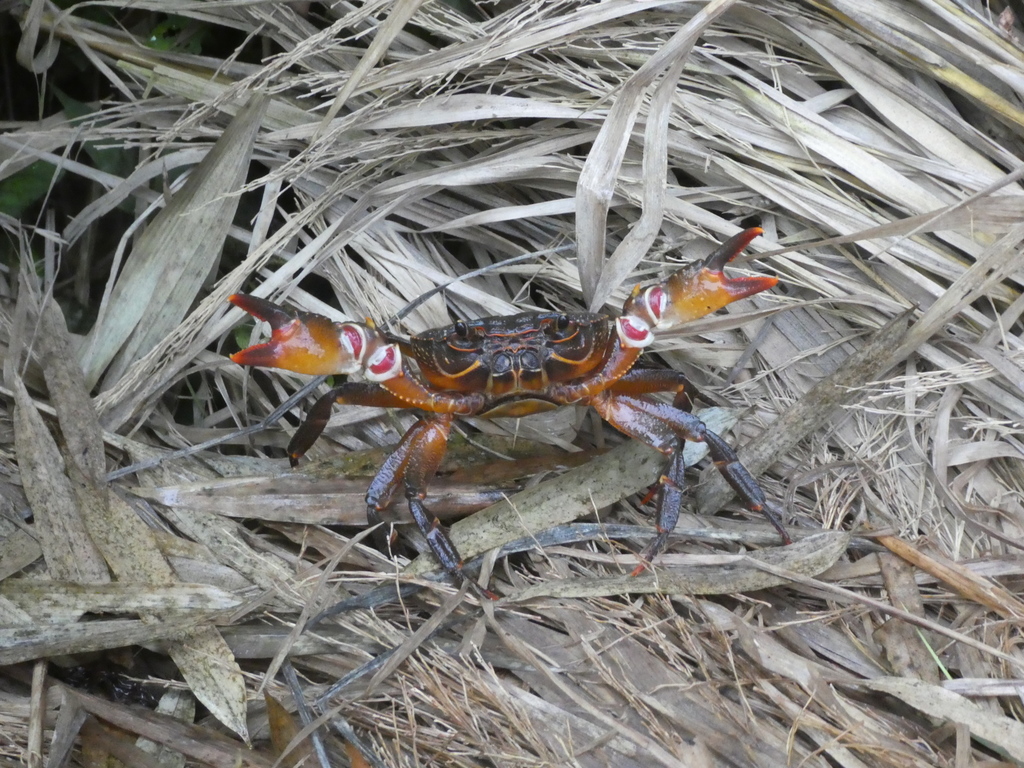 I had no idea there were mountain river crabs. We had walked through rice terraces before in Bali, but these were different. In Bali, there was a define path for tourists. Here we had to follow dirt path, balance on rises of dirt between paths, and climb up mucky inclines, dodge buffalo poop, and avoid spider webs.
Rat Hunting
If the afternoon, after school, nearly a dozen boys were rat hunting in the fields. They carried bamboo sticks and pounded around until they found a rat, then would chase it down and beat it. Cho Cho's daughter-in-law explained that many people eat them.
The boys would run and jump from terrace to terrace at full speed.
But it wasn't just for the boys. As I was stargazing, Cho Cho's youngest son (27), picked up a bamboo stick, put a light on his forehead, and ran full speed into the rice terraces. I watched the lights from the various headlamps erratically go all over the rice terraces for a while until I went to sleep. They caught six at night.
Food
The girls got to help with cooking. Both liked playing with the fire, but each of them had different jobs for the different meals. The food was simple. Salt was the only spice used. With the exception of the tofu and the potatoes, everything else was grown on their property. Yams were cooked by being placed directly into the ashes below the fire. After a while Alyssa had to ferret them out with a stick. Delicious and simple. There was almost no oil used, and it was far less greasy than the food we had eaten in China for the past month. I was especially happy with the tofu.
We ate on the porch over looking the valley of rice fields with over 50 bags (50 kg each) of rice sitting behind us. "Do you sell the rice?" "No! We eat it. We eat about one bag a week." With 5 kids and 19 grandchildren, Cho Cho is the primary supporter for most of them. The fields were hers and her husband's. Her sons will get a portion of the fields when they pass on. Adding to the demand on food, the homestay gets lots of guests passing through. 50 kilograms (110 pounds) of rice a week was a lot.
HMong People
The history of the HMong people is complicated. Genetically and linguistically to the Miao people of southern China, many fled during the Qing dynasty and settled in Laos and Northern Vietnam. During the communist upheavals in this region in the 60s-70s, many of the different HMong subgroups took various sides and some tried to stay neutral. Many HMong people fled to the United States during the 70s. Ta Van primarily had black HMong. Black here refers to their type weaving, almost all have a black base with different embroidery.
Alyssa and Kylie spend time with Cho Cho learning how they sew and embroider. Hanging on the wall were many items that Cho Cho made. "Many of the young women don't want to do this now, it takes too much time." There were two houses just a stone's throw away from Cho Cho's. Her daughter lived in one and her other son lived in the other.
Her other daughter was a new mom and left the baby rocking in a hammock by itself for most of the day while she did her work. She had a finely made baby wrap she used to carry her child when she left. "Did you make that?" "No….I'm no good, Cho Cho made for me."
Cho Cho
It was wonderful to sit with Cho Cho and her family and learn about the HMongs in Ta Van. Cho Cho said that the young men and women did not leave the village often. Some skip school and talk about marrying young. In fact, one woman we met was 21 and already had two children (7 and 3). On our last day here, Cho Cho joked that some of the young boys were talking about the virtues of getting married early. (They all looked to be about 12-15 years old). This talk made Kylie and Alyssa a little nervous as several of them would look their way and talk. Cho Cho joked that the boys were referring to them. "When I was young, I lived on the village on the top of that mountain (she pointed across the valley to the mountain above Sa Pa. We would come down with wood. One day my husband steal me for four days, only allowing me to return to get new clothes. =-He talked with my mom and dad gave them drink and food, and they said I belong to him now and that I should go. That used to be our custom, how marriage happened. Not any more, now the custom is different. Now a woman says yes I want or no I don't want." Alyssa was mortified: "You were kidnapped". "That was our custom." We asked how old she was when this happened, but she didn't know. Tracking age as a metric for life events wasn't important to her and wasn't done.
"Do you remember the war?"
"No I was too little, maybe your little one's age. I remember being carried on my mom's back and climbing into the hills to hide."
Cho Cho explained how she started her homestay 14 years ago. "Many things change in the valley. Now there is lots of tourist money coming in. Also, people farm much higher up the mountain."
The valley is mostly rice terraces, and the mountain is mostly bamboo. The wildlife is gone from either hunting or lack of food. "When I was little, I remember the old people talk talk talk about a tiger in the valley killing a buffalo. One time a person went hunting in the mountains for a week and came back with a bear, but that long time ago, nothing here now."
As we drove down the mountain and walked to Cho Cho's house, we saw both a multitude of homestays and ecolodges as well as many foreigners. More foreigners than we had seen in weeks.
As we talked, Cho Cho's daughter-in-law stamped on clothes in a bucket of water. "Why don't you get a laundry machine?" Sharleen asked. "How much does it cost?" returned Cho Cho. We didn't know. It was a reminder that work was constant for Cho Cho's family. Time saving devices that cost money buy leisure time for what type of activities? The lifestyle is what Cho Cho seemed to enjoy.
Rice Farming
As Sharleen and I came back from a walk in the bamboo forest and rice terraces, we saw Cho Cho's youngest son setting up a tarp and a fan. He opened a bag of rice, poured the rice into a handwoven bamboo basket. He then slowly poured the rice in front of the fan-created wind. The wind blew rice husks and debris away from the rice. He repeated the process.
We asked if we could help. Soon I was opening the rice bags and pouring the rice into bamboo baskets. Cho Cho's son poured them out in front of the fan. The girls raked the good rice away from the fan. Sharleen and Cho Cho's daughter-in-law gathered the good rice back into the bags.
"What do you do with the bags of rice?"
"We take them down the hill on a motorbike to a machine in the village that takes the husks off. It costs 3,000 Dong (About 1/8 of a dollar) per bag to process. Then we take them back up to eat."
This was hard work. Each rice bag weighed 50kg and we lifted, poured, repackaged, and moved to storage over nearly 46 bags of rice. That is over 2 metric tons of rice we processed. We started to loose steam in the afternoon. Some of the local boys came over after school and started to help. By the time we left, there were only 7 bags of unprocessed rice. "Usually this takes 2 full days." Cho Cho's daughter-in-law explained. After three-quarters of a day of work, my muscles were sore and my back ached. (Alyssa complained for the next two days about her back hurting as well: "Is this what it is like to be old?" she asked me.). My arms were stained yellow-green and scratched. The stains stayed with me for days, reminding me of our time in Ta Van.
Sharleen, ever the economist, wondered about the cost effectiveness of the work being done that day to save so little on processing. "It seems like more work than it's worth." Perhaps, but this is how they have been processing rice for decades. Innovation to save time and earn more money was not the end goal of this lifestyle.
Farming is a lot of work. I grew up in a farming community and I saw how hard my classmates and neighbors worked. I was happy that the girls had the opportunity to not just see the fields, like in Jatiluwih and learn about rice farming, but now they actually had a small hand in rice farming itself.
Out time here was too short, but we had to make the night train from Lao Cai to Hanoi. Cho Cho walked us back through the rice fields into Ta Van where her other son drove us back to Sa Pa for the long bus ride back to Lao Cai. The farther away from Cho Cho's house we got, the more glitzy and touristy the environment became. Soon we were back in the bright neon lights of Lao Cai. With the influx of tourism and the encroachment of hotels and development on the valley, I was reminded that our visits to places like these are moments in time. The valley, like most other places we've been, will most likely not be the same if we come back. Until then, one of the images I'll hold in my head Ta Van is this:
Cho Cho's Homestay – Facebook (Click Here)
Cho Cho's Homestay on Trip Advisor (Click Here)