To beat the teeming masses, we dragged ourselves out of bed again extra early and headed for the park entrance — number 2 in the line again. Some other travelers traded tips with us, preparing for our full day of no rain in the park. Our anticipation built as the clock ticked down to 6:30AM. We felt like race horses chomping at the bit. The guard opened the gate and we swarmed through the metal detectors. We went through the fingerprint machine and were on the first bus to Bailong Elevator. Climbing over 325 meters in under two minutes makes it the tallest outside elevator in the world.

It zoomed up as we snapped pictures furiously. We got up to the top and jumped on the bus to the Yuanjiajie viewing area.
Yuanjiajie
Atop the mountain was much cooler than the valley. Birds were active. There were less than 10 of us at this point. All this made the morning very pleasant. Walking down to the first viewing area, our breath was swept away. Giant sandstone pillars no more than 20-40 meters in diameter stretched like fingers reaching for the sky through the green forest mat at the valley base. Stunning. We went to view point after view point, snapping as many pictures as we could, than moving on to stay ahead of the tour groups.
The scenery really was surreal, like nothing I've seen before. Pillar after pillar were worn with time and erosion. Trees were on top of some, while others only had some shrubs. Some were far apart and others were conjoined. The location of the viewpoints accentuated the view in that they abutted the edge or extended over the edge of cliffs. We looked straight down over 300 meters into the gorge below, making the quartz sandstone pillars jutting upward look even more stunning. It took our breath away.
Going over a natural bridge to one of the pillars was an obvious highlight. The bridge was decorated with red ribbons and locks (available for purchase at a kiosk right on the pillar, I might add). I'm sure the locks and ribbons had something to do with enduring vows. In the middle, next to the kiosk, was shrine covered in ribbons.
| | |
| --- | --- |
| | |
| The Natural Bridge | So much for "leave only footprints" |
In a country that reveres good luck omens, many vendors capitalized on this. Want your marriage to last? They buy a ribbon and lock. Want long life? Buy a fish and release it in the pond. We could hear the tour operator loudspeakers. They were coming. As we hurried to leave, a large monkey who had just stolen a bag of food from someone blocked the way. We edged passed it, hoping that the food provided enough of a distraction.
Yangjiajaei
We sped past the food and souvenir kiosks (and the KFC), and caught the bus to Yangjiajaei. By now there were more people. Our map wasn't super great, so we followed another tourist who was super helpful and spoke good English. Sharleen and Kylie sped ahead with him, Alyssa and I couldn't resist the gravitational pull of fried and seasoned potatoes. Fantastic! We got a cup full and caught up with with our team.
The road became more narrow and it became apparent we would be going up one of the pillars. We walked past another bunch of vendors and the road split. One path went around and another went up. Both trails looked like goat paths, so we chose up. We could not see where the trail led until the next step was upon us. Narrow and steep, we used feet and hands to scale and wind upwards until we reached some recognizable stairs. Definitely not wheel chair accessible! There were no ropes or cables for safety. At the top, it went right back down through a narrow passage between two walls. I had to turn sideways and suck in my gut to squeeze down. A short path led to a fork. Both paths led up, neither was labeled. We relied on our new friend: "It's a circle, it doesn't matter." We climbed up the stairs. Kylie started to pout, stairs were not her friend. The slope was steep and the steps were wide so she had to work a little harder than we did. At the top were some kiosks, and to our delight the path continued. This time it wound down steeply until a rebar ladder, then up steps carved into the sandstone, then to another rebar ladder going up.
| | |
| --- | --- |
| | The "upstream path" was more of a mountain goat path than a human path. |
| | Yup it was a tight squeeze. I'm not telling anyone how I squeezed through. |
| | This steep climb had everyone's legs working overtime! |
| | Not only were these steps carved right into the sandstone. They were not made for my size 13 shoes. |
| | After a rebar ladder down, it was time for another rebar ladder up. |
| | I hate my dad for posting this picture. |
| | A rhesus monkey lies in wait to take food from inattentive travelers. |
| | I'm pretty sure these paths are NOT ADA compliant. |
| | For those who can't make the trip, have no fear. Pay two people to carry you on bamboo poles. We saw several people on these things. Some of the people carrying were in their 60s. They asked just about everyone if they wanted a taxi ride….except for me. I guess my size was enough of a deterrent. |
Upon reaching the top of Tianbo Mansion, my breath was totally taken away. I had been so focused on the climbing, winding, and not falling that when I picked my head up and looked around I could not believe my eyes. A vast landscape of pinnacles, mountain villages, and a beauty only reserved for those who struggled to hike here, laid out before me. Each person who came up, making the same trek I did, had a similar reaction. Ooos and Ahhs could be heard. It was almost like waking up as gods and opening the door and looking down on creation. We took picture after picture knowing full well that they would not capture the intricacies and wonder that we beheld in that moment.
Beaming with joy on the way back through narrow paths with sheer drops on either side, we spotted a grandma selling peaches. She huffed it up, except with a sack of peaches and cucumbers for sale. We couldn't pass it up. When a cheeky macaque tried to sneak up to grab her food, she quickly grabbed a stick and instantly the macaque bounded off down the cliff to the refuge of some trees. Don't mess with this grandma!
Tianzi Mountain
We caught the bus to Tianzi Mountain. After a short 30 minute ride that gave us a chance to get some rest, we arrived. We sped past all the food stalls and hit the scenic viewing areas. By now it was nearly 2PM. We had been walking steadily since 7AM with only a 30 minute bus ride as a break. Our legs were feeling the burn. The views at Tianzi were fabulous, except the crowds were there. It was hard to get some decent shots without elbows and other people in the frames. We left to return to valley floor via tram.
A walk with Alyssa along the Golden Whip Stream
We were tired, but energized by our awesome experiences. I wanted to return and walk the Golden Whip trail again when it was not raining. It was almost 3pm. Kylie wanted to come too, but she was pretty tired.
Alyssa and I sped along the trail, weaving in and out of tourists. Sure enough, the farther we went, the thinner the crowd got. We happened upon a troupe of macaques jumping into the steam and swimming. Some would even dive and turn over rocks at the stream bottom. I had no idea they did this. This struck me as a strategy to beat the heat.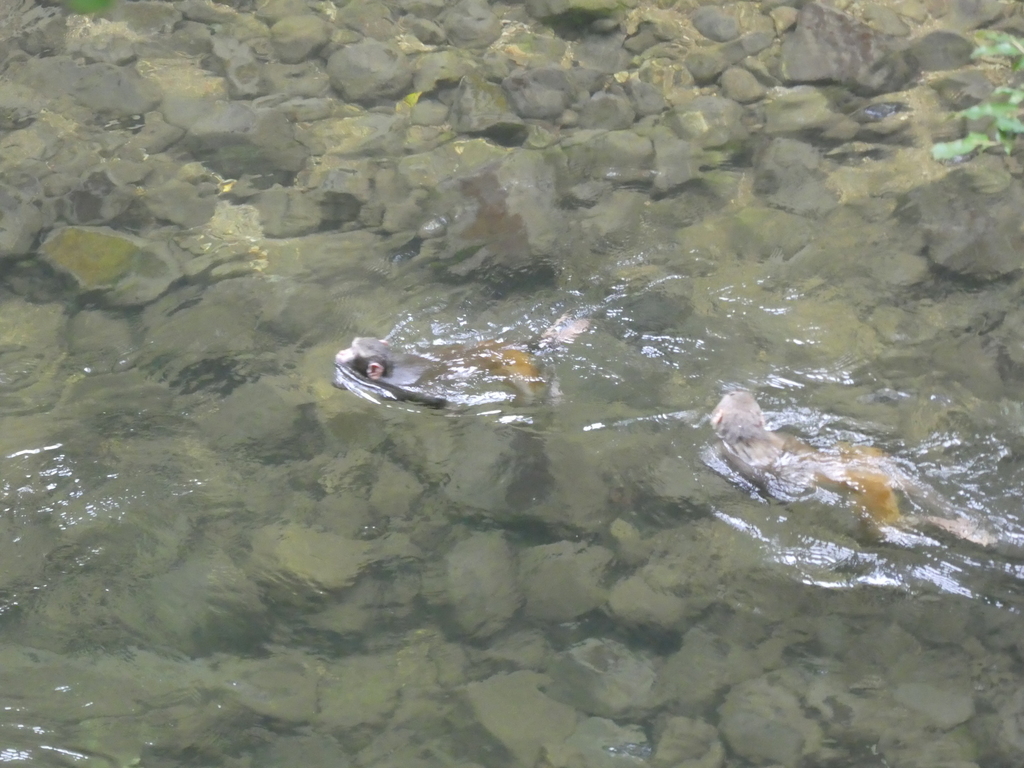 As we hiked farther the greener everything got.

We walked and talked. "It's been a really full day, morning seems so long ago," Alyssa observed. It had been. We had seen so much and filled our lives with so much awe in just a few hours. The peaches and potatoes we had earlier seemed more delicious. The views seemed more spectacular. "The harder you work, the more satisfying the reward becomes." It's a lesson that is hard for young people to get, especially a generation used to near instant gratification.
We came to a fork in the road and chose to go into the Shadao valley. This valley was right below the overlooks we were at early this morning. The dense green foliage, mist, and humidity made the walkway more and more difficult. Alyssa and I slipped several times. Alyssa observed: "Dad, I really like how convenient they make it to throw stuff away." It was true, every 50 meters or so on every path, there were these small garbage cans. It was a simple observation, but there were so many lessons in that. "That is good design practice," I explained. "More than that, it provides extra employment. Someone walks these trails every day and empties those out. It helps with the Chinese model of full employment."
We both couldn't believe we were still walking. We had been on a trail since 7AM and now it was close to 4PM. It was time to head back. Our conversation meandered just like the path, taking us from one topic to another topic. It was time together I cherished. As a high school teacher for 12 years, I've seen what happens to young people as they enter and work their way through high school. They get more involved in activities. Friends become increasingly important. Many students start work and are preparing to leave for college. They become less and less involved with family, and become more resistant to family regiments. Already, Alyssa was feeling the tug of social media and friends which led to more than one fight in our household. Before we know it, she'll be grown and gone, visiting only on holidays. However in this moment, I knew how lucky I was to get a little more time with her. Getting one more year with her is just as big as a gift as getting to spend a year travelling with the family. It was a wonderful day. How lucky am I to have such a wonderful family!