Established in 1982 as China's first national park, it is also a UNESCO Geopark. Many people refer to it as Avatar mountains as many of the formations in the park look like they are from the movie Avatar.
We stayed in Wulingyuan on the northern side of the park. This small town is built for tourists. Hundreds of hotels large and small, posh and hostel-like make up the bulk of this town's landscape. Hawkers sell everything you might need in the park: umbrellas, rain gear, fans, walking sticks, and food-stuffs.
The alleviation of poverty through tourism
I saw this slogan a few times in the park. I had heard stories, but was not prepared for the throngs of tourist masses. The numbers are staggering. In 2011 there were 30 million visitors to the park. Compare this to 3.8 million to Yosemite or 3.39 million to Yellowstone, or 4 million to the Grand Canyon (the three most visited parks in the USA). Another way to think about it: On Average, that is 82,000 people a day.
The park was prepared however. Upon entering, hundreds of buses are ready to take tourists to one of five locations in the lower valley (the cable car, the ten mile gallery, the Golden Whip Stream, or to the Bailong Elevator.) There were nearly a hundred buses on the ridge, prepared to take tourists to a variety of stops up top. Each bus seats 36, but with standing room, 40-45 people crammed in. The buses sped to and fro, whisking all the people to where they wanted to get to. Even with over 100 buses in action, at times we would have to wait 15-30 minutes in a queue for enough buses to move the hoards of people around.
Even though we had to wait, the buses came much faster than at Yosemite, the only comparable place I can think of. When a bus arrived, people ran from the line trying to secure a place so they would not have to wait for the next bus. It was crazy.
The national park in Wulingyuan Scenic Area was organized differently than national parks elsewhere. In most national parks, there are trails to follow with destinations at particularly scenic or representative places. There are usually visitor centers where people can organize their visit and learn about the place they are visiting and food is available at designated locations. Usually, "take only pictures and leave only footprints" is the mantra. However things worked differently in Wulingyuan. For starters, there was no visitor center. Almost everyone was part of a tour. This meant there were nearly a hundred tour guides with flags, each being followed by 10-20 people. The tour guide spoke into a speaker, meaning a constant drone amplified tour guides speaking Mandarin.
There were rhesus macaques in the park. Many signs say: "Don't tease-feed monkeys but many people threw food at the monkeys anyways. Some of the monkeys were darn right fat. Other monkeys were aggressive, taking food right out of people's hands. I saw a large male monkey chase and scratch a boy who was stamping around being loud.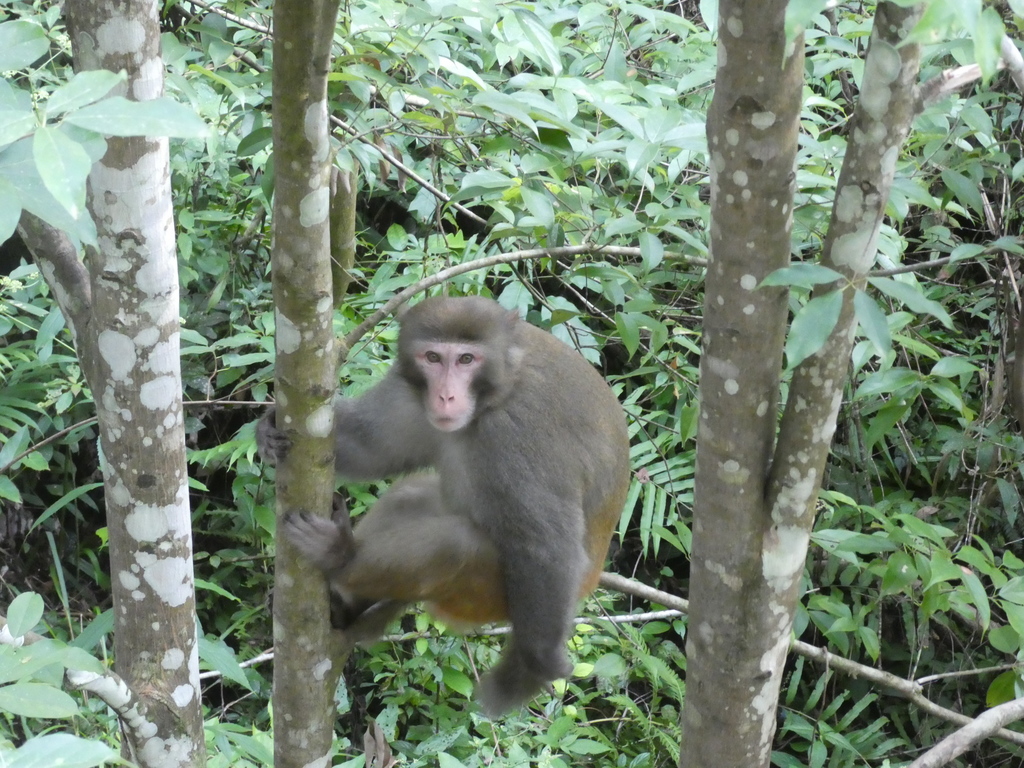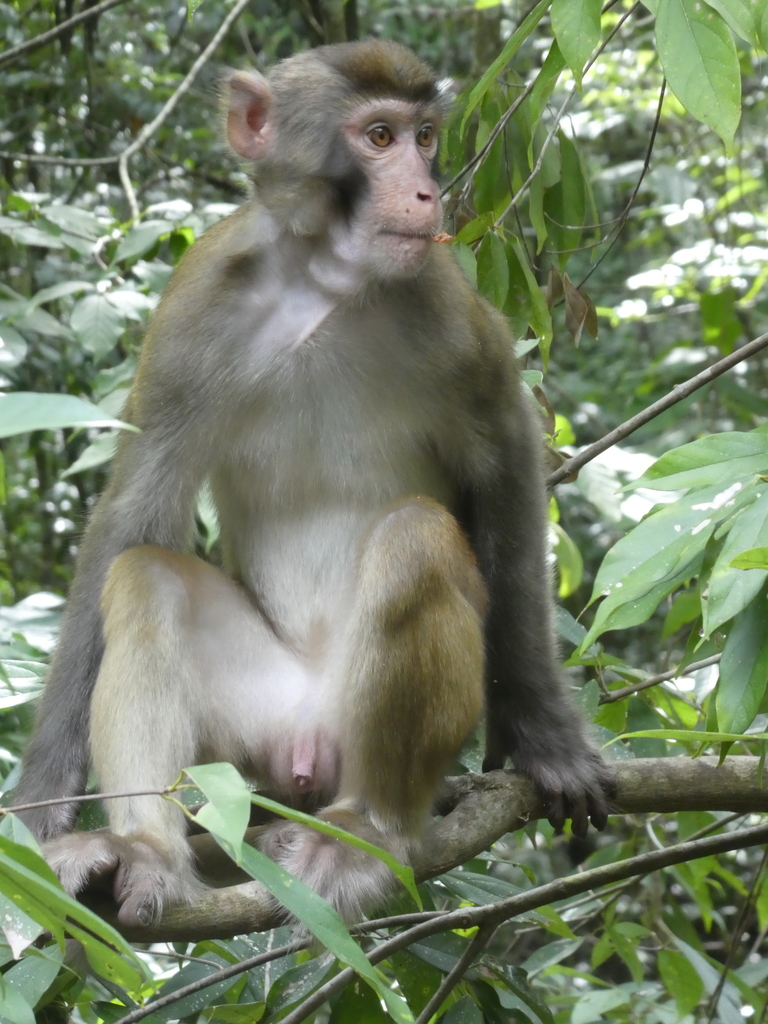 Food was readily available in the park. Just about every 50 meters, vendors sold potatoes, soups, popsicles, water and soda, tofu, satay, and a wide variety of comfort food snacks. Sometimes they were at a shack, sometimes they had a blanket laid on the ground with cucumbers and fruits to sell. There were many restaurants in the park, even a KFC and a McDonalds for those with discerning tastes.
Also, just about every formation was named, saving you the trouble of using your imagination.
A lot of money was brought into the area from the richer coastal regions and overseas. They money spread around to restaurants in and out of the park, to tour operators, hotels and guesthouses, and the thousands of people to support and staff the massive influx of people.
Day 1: 10 Mile Gallery

Our plan was to see as much as we could in our three days. We got off the bus, stashed our stuff at our hostel, paid our entrance fees and took our first bus to Ten Mile Natural Gallery at the foot of Tianza Mountain. We walked along the narrow boardwalk next to an electric train that carried people up to a restaurant and souvenir stations. Even though the creek-bed was dry, everything was green. Swallowtail butterflies fill the air and monkeys waited on the trees periodically for handouts from passerbys. Being in the deep valley looking up at the amazing sandstone-quartzite formations was memorable. At every bend there was a new formation and a new interpretation: The Forefinger, Hermit Carrying Herbs, Peacock Spreading Tail, Monkey Keeping Guard, etc.
We had been on the road since 7AM, and popsicles provided the perfect motivation. Near the top they had a "Monkey Forest Park" which was highly misleading. There were 5 monkeys in a small cage. Visitors poked, prodded, whistled, and threw food and sticks at them. It was shameful.
We headed back to our place, sweaty, and tired and prepared to get there early for our second day. No distances were posted, but I estimated about a 3km walk up and back.
Day 2: Golden Whip Stream
Everything we read and experienced so far spoke of the importance of beating the crowds. If not, our pictures would have a crowd of strangers, but a bunch of time would be wasted waiting for turns to take pictures and at transportation hubs in the park.
We woke up early to beat the crowds. At 7:00am, the park opens and we were second in line. As 6:30AM approached, the rain started and tour group after tour group got off bus lines to started to the park. Each was wearing pink, red, blue, or yellow ponchos, complete with rain booties.
The rain was light, so no big deal we thought. We decided to hike up the Golden Whip Stream, just in case there was poor visibility atop the mesa. By the time we got out of the bus, it was raining. Undeterred, we stared up the stream trail. The more we walked the harder rain fell. The girls loved playing in the rain (Kylie more than Alyssa). Being out with so few people also was nice. However, when the thunder started and the signs warning against lightning strikes became more frequent we decided to head back.
Even as we exited the park in the pouring rain, throngs of rainbow decorated tourists were streaming into the park at 10am.
The park was beautiful, but we hadn't really got to explore it yet. We were feeling a bit let down that we couldn't maximize our full day in the park, and hoped that the next day would be better.