Sayong House
We arrived at the airport at 1AM. Alyssa was the first in our clan to set foot on Indonesian tarmac, as we exited the plane via stairs. The temperature was very different than Cairns. Sticky and hot…even at one in the morning. There were hoards of drivers holding signs for passengers, we found the one holding Sharleen Goldfield (actually it was Alyssa again who found it). We plopped in the car and sped to are destination about 90 minutes away: Sayong House. (I was so glad I wasn't driving. I only saw three signs saying Ubud, but the driver made at least 20 turns – speeding along honking at moped drivers and stray dogs playing the street.)
We stopped on a street and walked up a dark ally way to our house and promptly fell asleep.
We awoke to roosters crowing at 5AM. The girls looked around. "Oh my god I love this place. It's so beautiful. Where's my rock, I want to film it for Anwen," said Alyssa when she was up enough to look around. Kylie wanted to go swimming in the pool.
For the next few days this place was home. Breakfast was brought to us on our veranda every morning. Fantastic service staff. And a wonderful family shrine in the courtyard.
Walking around
What impressed Sharleen and I the most when walking around was the doorways to many of the homes. In the United States, a door is a door. It is something that keeps us from our destination, or is something that shields us from that which is not our home. However, here each "door" is a fabulous gateway to something amazing. Each door said: "You are about to cross over the threshold, through this gateway way, prepare yourself to be amazed and show respect to all you encounter." Elaborate stone or woodwork adorned each one. Each one hand carved.
There are temples everywhere in Bali, each village has at least one new one and maybe a few historic ones. We visited the Saraswati Temple (Built in 1951) and the Ubud Palace (Built in the 1800s). The Ubud palace with the royal family household and Saraswati was their personal temple.
Signs were everywhere to stay off the grass and stay out of certain areas of temple. We saw a dog walked up to a restricted area pillar and peed. Then it came down to the grass and took a dump. Where's the respect?
Monkey Forest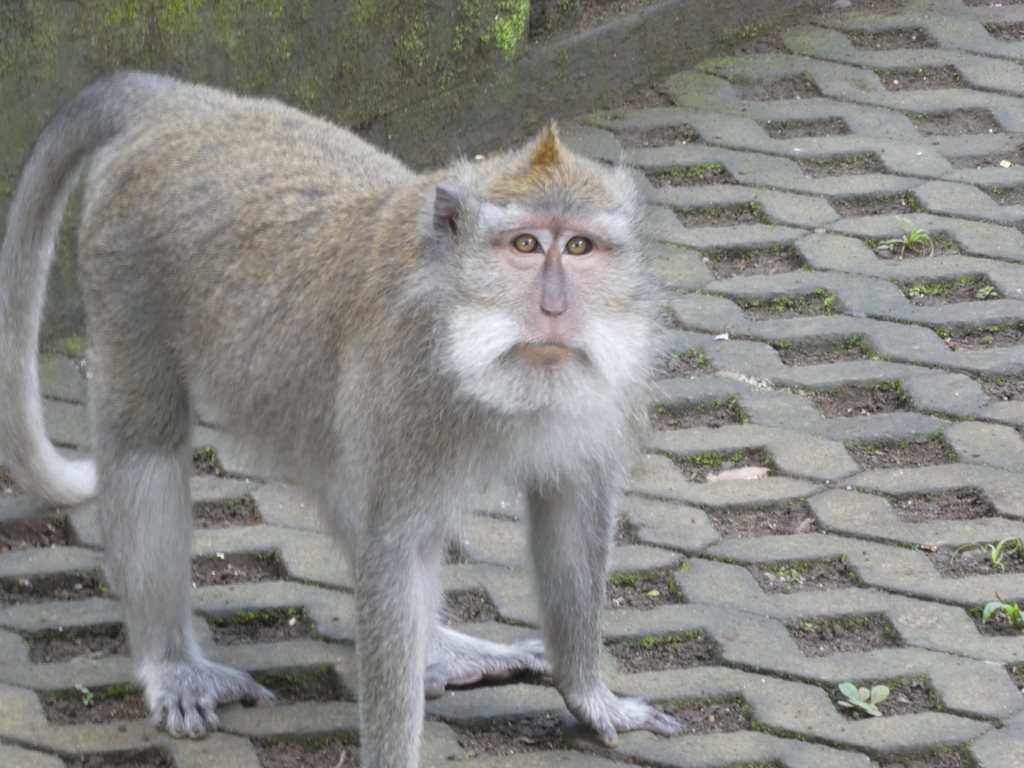 After visiting the Saraswati Temple, we walked down to the Sacred Monkey Temple Forest. I had read about and was prepared to see monkeys running around and maybe they would try to grab food out of your hand if you had any. So I tucked everything into our day pack while Sharleen got the tickets. (Converting dollars into Indonesian Rupees was a challenge at first. Tickets were 60,000 for adults…how many dollars is that?)
To say the least, there were plenty of monkeys (Technically the common long-tailed Macaque). They were fighting, playing, eating, and VERY observant of people who were not paying attention. On one path, one jumped onto my back and then proceeded to open the zippers of my backpack to look for food.
| | |
| --- | --- |
| | Great photography work Sharleen capturing the moment |
| | Alyssa looked terrified. She sternly said "No." The monkey hissed back. |
| | And some monkey for my back. Kylie and Alyssa are still terrified. |
Some people wanted monkeys on them, some people were clearly unnerved by having monkeys get close to them. Many tried to get cameras really close to the monkeys and others tried to keep their distance. They will approach. They walked right by on handrails while we walked down pathways. I saw one sneak behind a couple and try to grab her purse. One monkey grabbed a water bottle out of a man's backpack, bit the plastic cap off and then drank the water. One grabbed someone's package of tissue paper from their pocket and proceed to eat and shred it everywhere. I saw monkeys reach into pockets, unzip fanny packs, reach down shirts, and gnaw gently on shoulders of people. There were also cute and cuddly and doing the most adorable things.
They were cute and it was neat…until it wasn't. One monkey started gnawing on Kylie's sleeve. She was following directions, trying not to make eye contact and pulling her arm away, but the monkey wouldn't stop. I had seen the minders around yell loudly at the monkeys and stomp the ground. So I did the same. It released Kylie, but then it was angry at me. It came over and bit my leg. Another larger monkey came over too and started to bear its teeth. In the moment, I was conflicted. Do I run, look away, jump away…..My mind flashed to having a hoard of angry monkeys jump me. I was a little scared. It was certainly not like the other cute encounter I had earlier.
We walked into the clinic on site a little later. "Our monkeys have no rabies, they are very clean. If there is no blood, no problem. Wash with soap later." My mouth started to foam. Just a normal day for me.
The forest is full of walkways and temples and shrines that date back to the 1300s. The temples and shrines are still in use today. Monkeys were on the statues, drinking from coy fish ponds, and all over the benches, trees, and walkways. The minders at the park feed the monkeys daily at certain locations and then spend a lot of time cleaning, helping tourists with monkey etiquette, or being playful with the monkeys themselves. (pro-tip: Don't use the hand railings. If not monkey poop, there is bird poop. If not bird poop, there are spiders and ants.)
Have a read on the monkey forest FAQ sheet if you'd like to learn more. (Click here)
Early Civilization Development Timeline (Click Here)