River Safari
16 of us sat on canvass chairs on a platform safari boat made for 60. It was off season. The chances of seeing wildlife was diminished by the rains. During the dry season, the Chobe river provides an oasis for wildlife far and wide, as most of Botswana is part of the Kalahari desert and remains dry with infrequent waterholes. However, with so much rain, all the streams and waterholes were supplied and animals did not have to come to the river. Regardless, seeing Africa's 4th largest river by boat was still exciting. The river divides Botswana and Zambia. Cape buffalo were raising their calves on Sidudu island for safety. When the wet season comes in full, this island will be submerged. We saw many hippos in and out of the water. We also saw crocodiles, chacma baboons, waterbucks, impala, and quite a few colorful birds including the African Fish Eagle.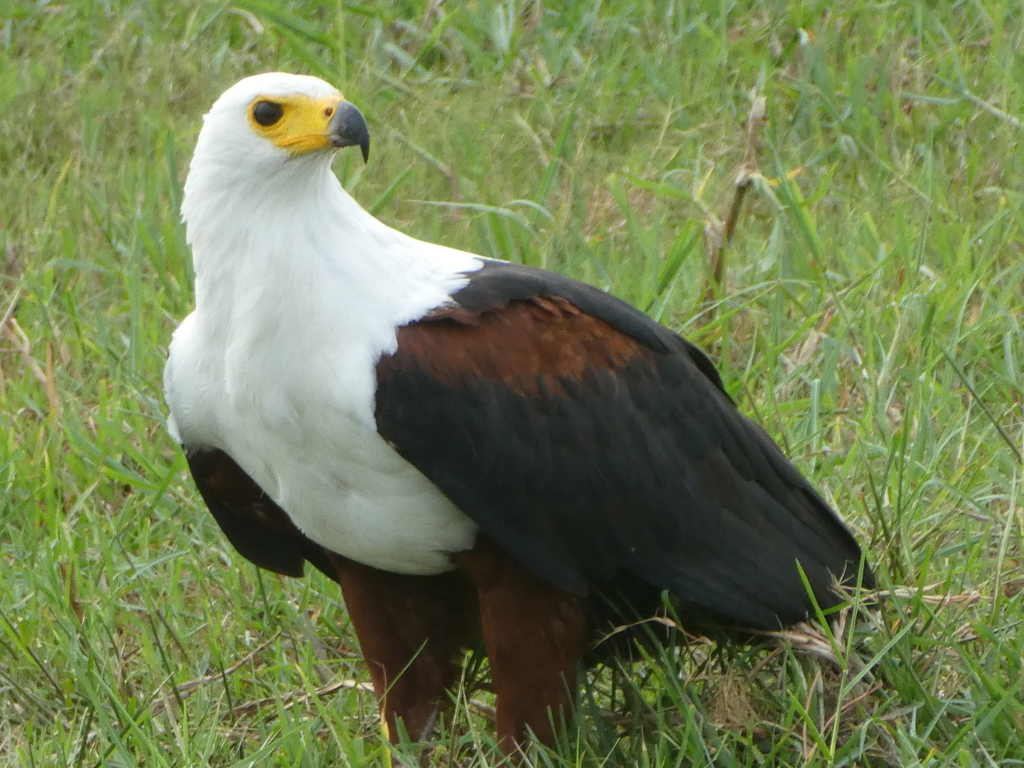 Across the grassy island fields we could see hippo after hippo. "They look like barrels with legs." They certainly did.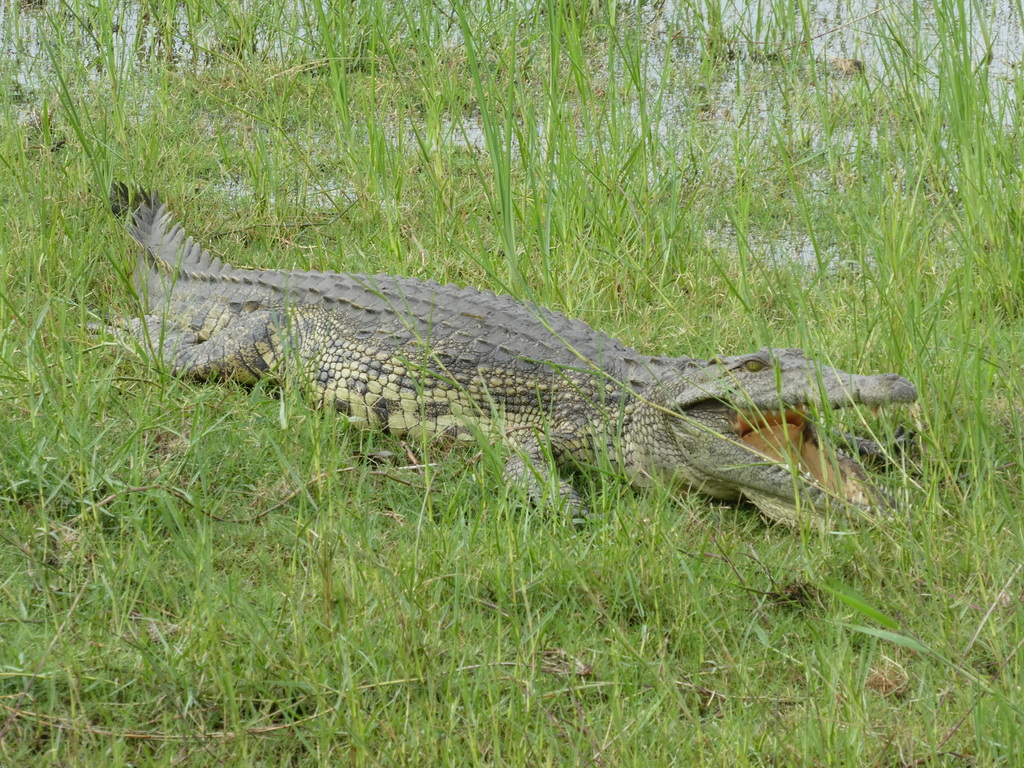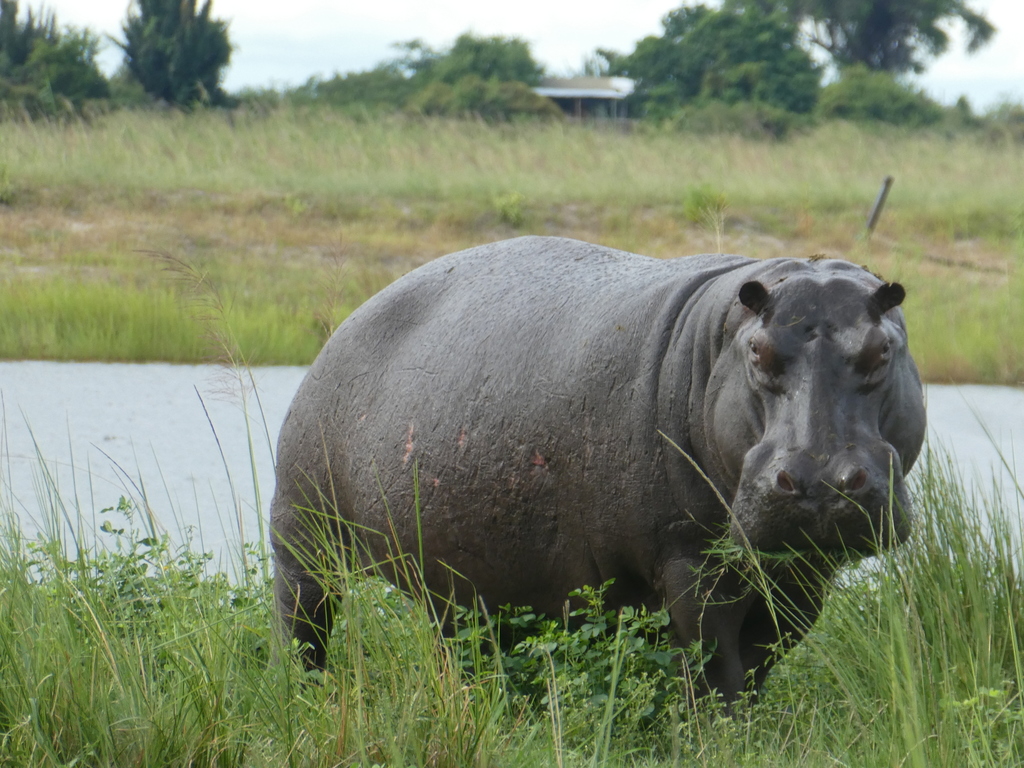 Jeep Safari
Chobe National Park boasts over 70,000 elephants. We were excited for our chance to see elephants in the wild. We started our jeep ride at 6AM when the park opened. Chobe is over 11,700 square kilometers with many dirt roads that crisscross through it. They offer the option of self-driving and we saw a few people attempting this. However, they spent lots of time at intersections looking at maps trying to figure out which way to go. The fact of the matter was a guided safari was more efficient. They knew where some animals hung out, where the watering holes were, and where the recent kills were. That said, we were most anxious to see some of the big cats. Because of a poaching problem a few years ago, all the rhinos were removed from the park to a more secure location. (Source). We saw more hippos, baboons, cape buffaloes, and impalas. We saw a lioness in the distance and took what pictures we could, but at 1 km away, it wasn't quite the IMIRE experience.
Even thought the park is open from 6AM to 7PM, we only had until 9AM because we had to be on the road to our next destination. At 8:45, the driver was speeding back to the entrance and we had all but given up hope when we saw a magnificent male lion walking along the road. Several other jeeps jockeyed for position. They would speed ahead and park off the road to give passengers a chance to see the lion from the front. The lion just kept on walking and couldn't be bothered with us. At one point it walked within a meter of the jeep.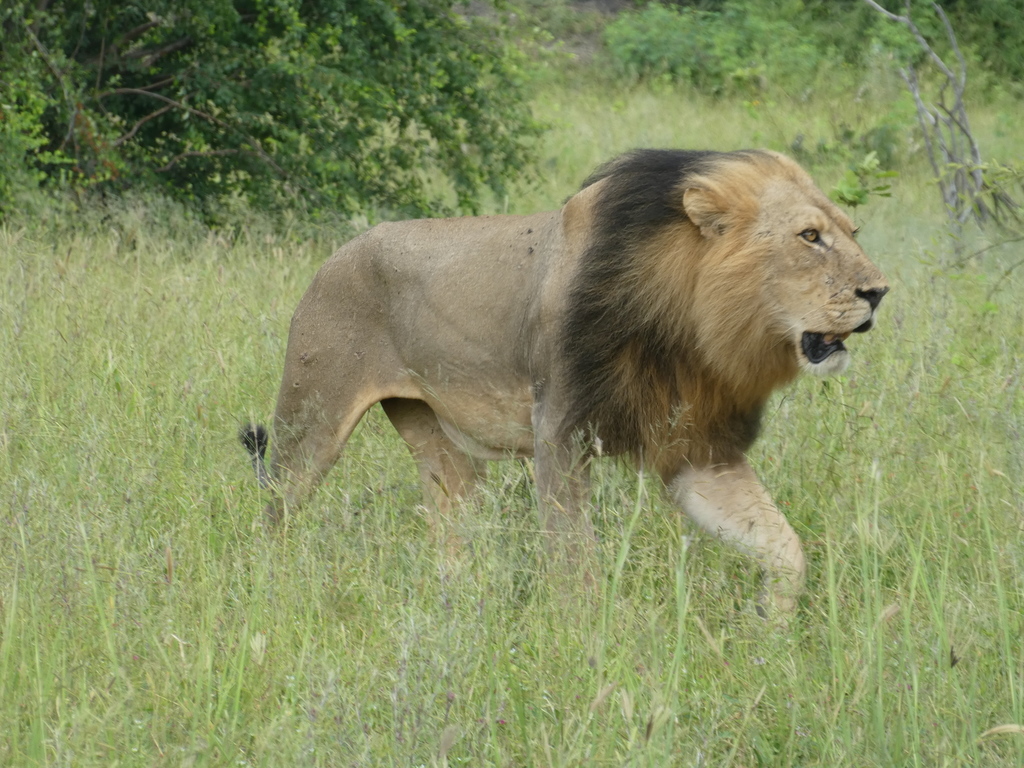 Lion listed as vulnerable according to IUCN Red list with global populations decreasing. The lion is part of the big 5. This means they are an attractive hunting trophy. Between habitat loss and trophy hunting, global numbers for this spectacular animal continues to decrease.
Everyone was joyous at seeing such a wonderful animal. It was the crowning experience of our Chobe park experience.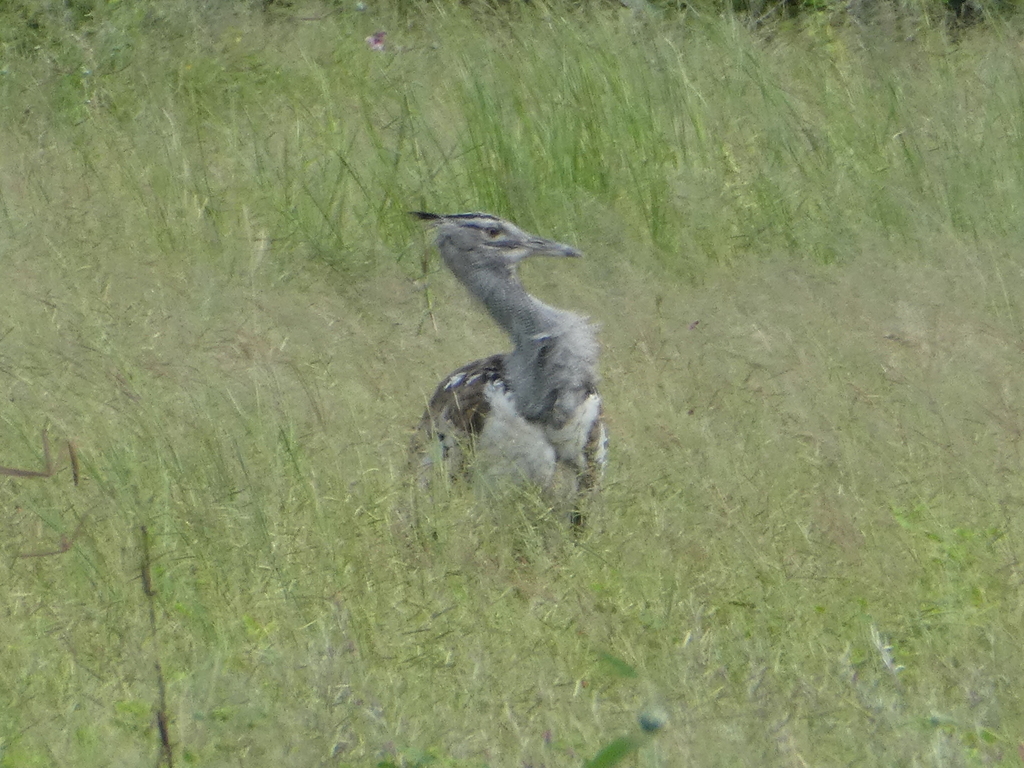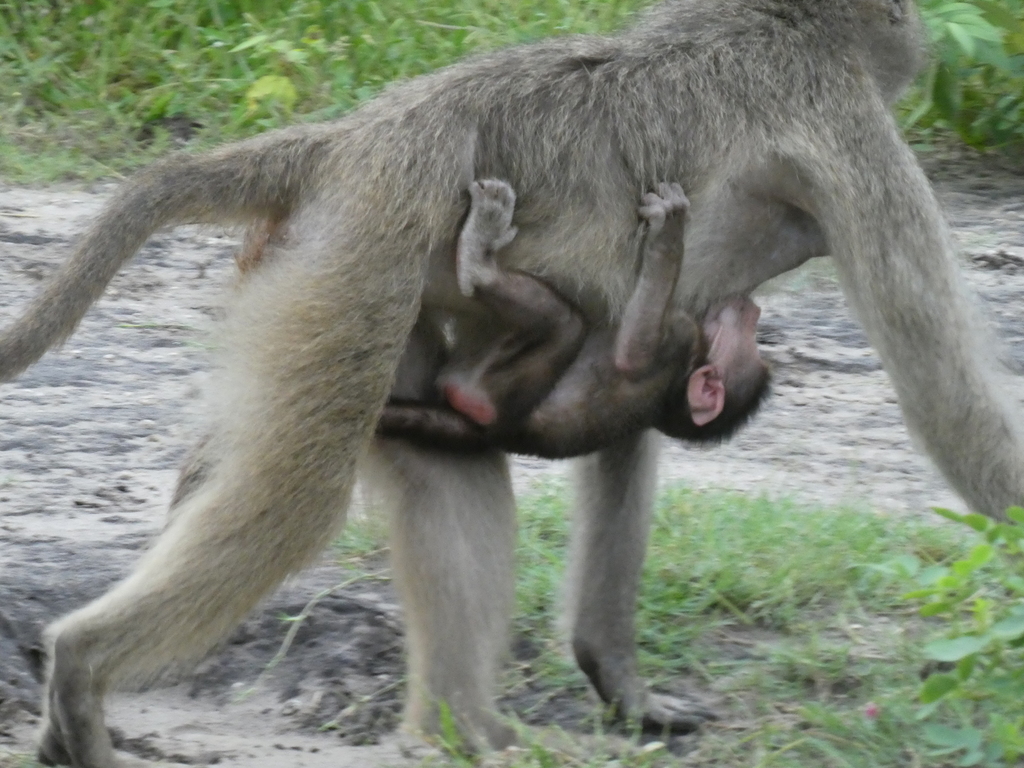 The baboons didn't even care about us. We were able to get fairly close. The looked so relaxed and ho-hum about us visiting them.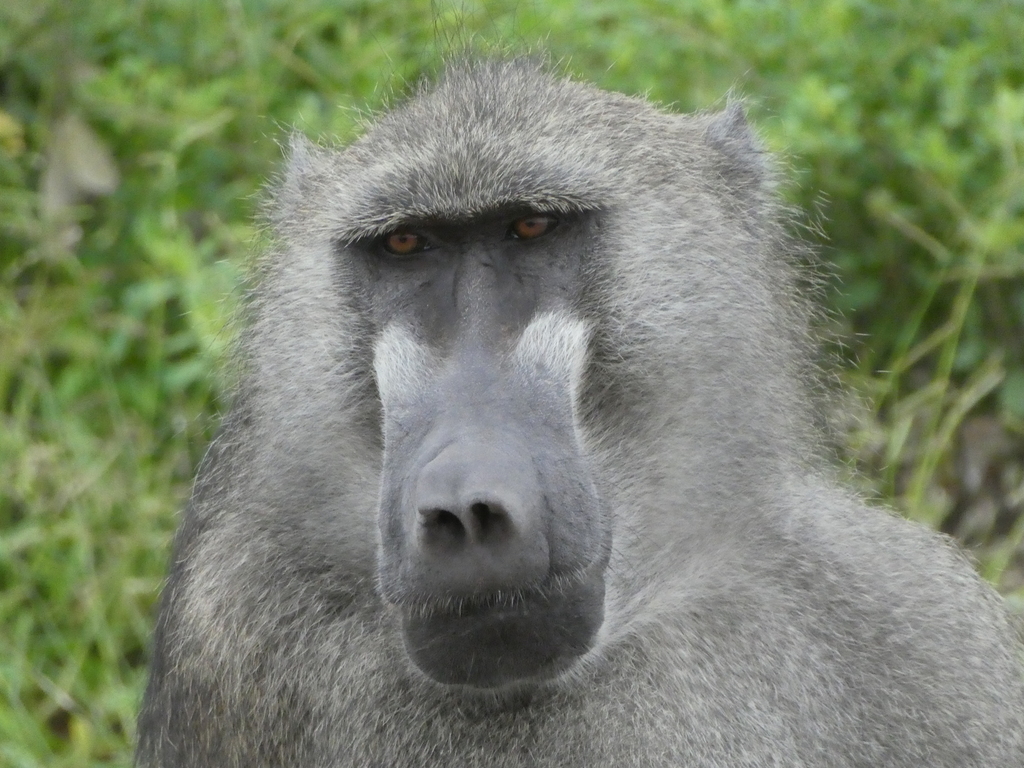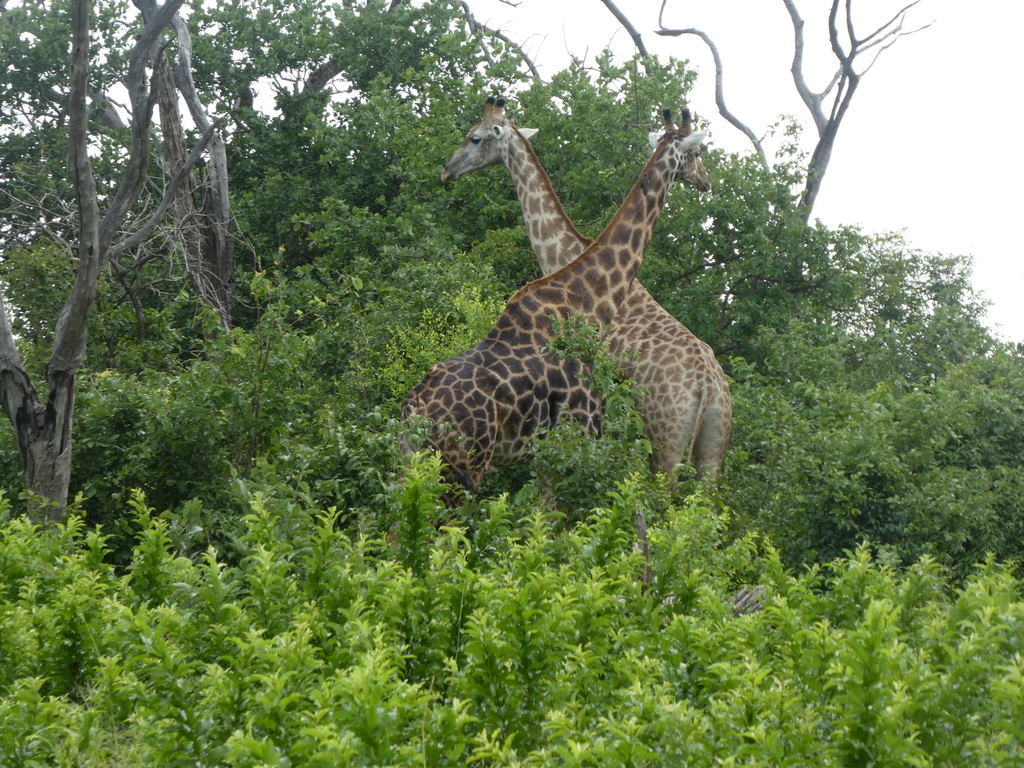 The Southern Kori Bustard and the Lion were not the only threatened animals we saw. The IUCN Red List lists Giraffes and Hippos as also threatened or vulnerable.