Cambodia's capital city was a mass of crowded streets and high rises. It was a bit like Ho Chi Minh City, but with less traffic lights. We had been warned by numerous travelers and travel sites to be wary of our food intake as their food practices were not 'up to snuff'.
The rain was intense our first two nights here. Buckets of water poured from the sky soaking everything. There was thunder and lighting. It was a whole show, that ended in about two hours. We walked most places, but from time to time we took a tuk-tuk.
Wat Phnom
Wat Phnom started as an artificial hill built in the 1300s in front of a woman's house for a temple to Buddha. According to legend, she found Buddha statues floating inside a tree near her house. She convinced her neighbors to build the hill to honor Buddha. Over the years various kings and people added to the monument. It remains as the highest point of land in Phnom Penh. (Which isn't saying much today as most three story houses are taller, but as an enduring monument for 700 years it is impressive.) Over the years it has undergone numerous renovations. We spent a morning there walking in the park.
As luck had it, there was a colony of a few hundred Lyle Flying Foxes next to the entrance. Not only did we get to see a historical monument, we also saw a vulnerable species according to the IUCN red list.
Early Civilization Timeline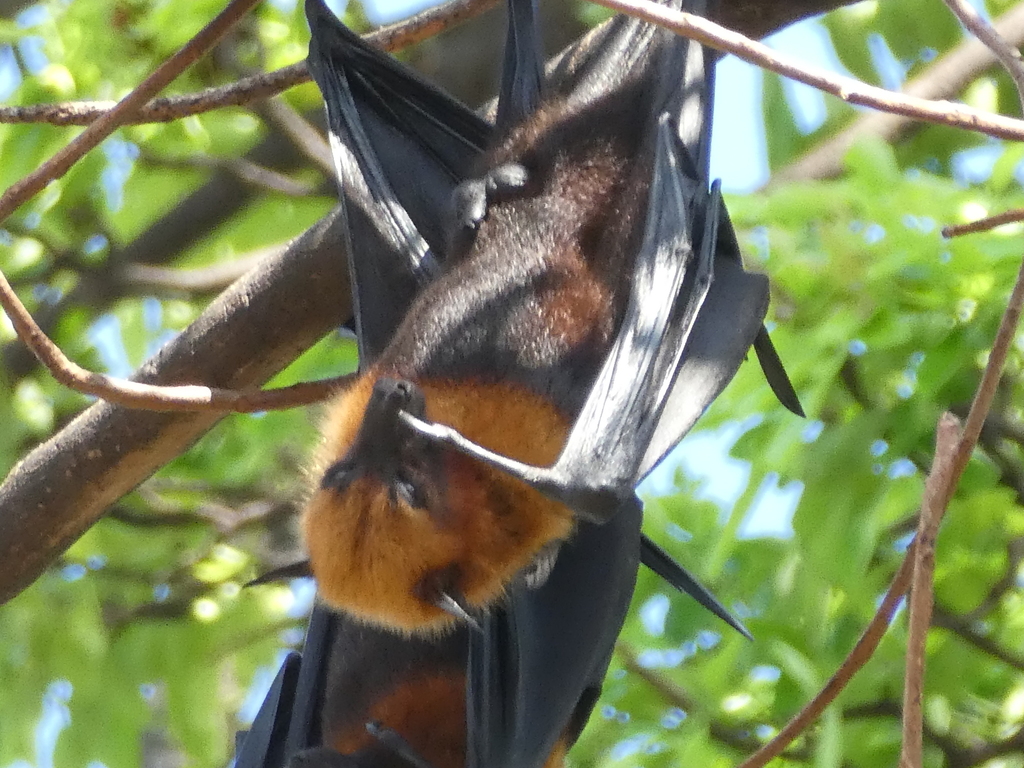 National Museum
This collection from Cambodian past showcases artifacts from each period going back to the pebble people. The building was gorgeous. Kylie couldn't stand it.
Golden Temple
This newly constructed Buddhist Temple was as it was named: All gold. Inside however had beautiful murals depicting the life of Buddha. While Lonnie prayed with the monks, I walked around the outside. The older temple (built during French Colonial rule), was fenced off.
Food
Food was a bit of a challenge. The prices were higher than what we had been paying, especially after Vietnam. Even local prices were higher. Most restaurants charged around $3 – $5 per meal when we used to paying $1-$2 per meal.