"The forest is gold. If we know how to conserve and manage it well, it will be very valuable." — Ho Chi Minh
Some basic facts about the Son Tra small but important biosphere
As of 2019 it covers over 4,400 hectares, making it a relatively small park.
There are 367 types of animals. 24 are threatened or endangered.
There are 110 species of birds, 30 migrate through Son Tra, 80 are resident, and 12 are threatened or endangered.
There are 329 flowering plant species.
There are 985 veined plant species, with 27 appearing on IUCN's Red List as endangered or threatened. At least 140 of those have medical uses.
"Although Son Tra is a small area occupying only 0.014% of the country's land area, the plant family accounts for 37.83% of the total plant family of Vietnam, and accounting for 9.37% of Vietnam's species." — GreenViet
The Red Shanked Douc Langur – The star of this biosphere
After missing out on seeing the Cat Ba Langur, I was determined to see the Red Shanked Langur which is listed on IUCN's Red List as endangered. A consensus of how many of these beautiful monkeys are left does not exist. WWF puts the number around 700, the New England Primate Conservancy puts their number at 200, and GreenViet puts the local population at 1300. There have been some sightings in Cambodia and Laos, but their global population is falling rapidly.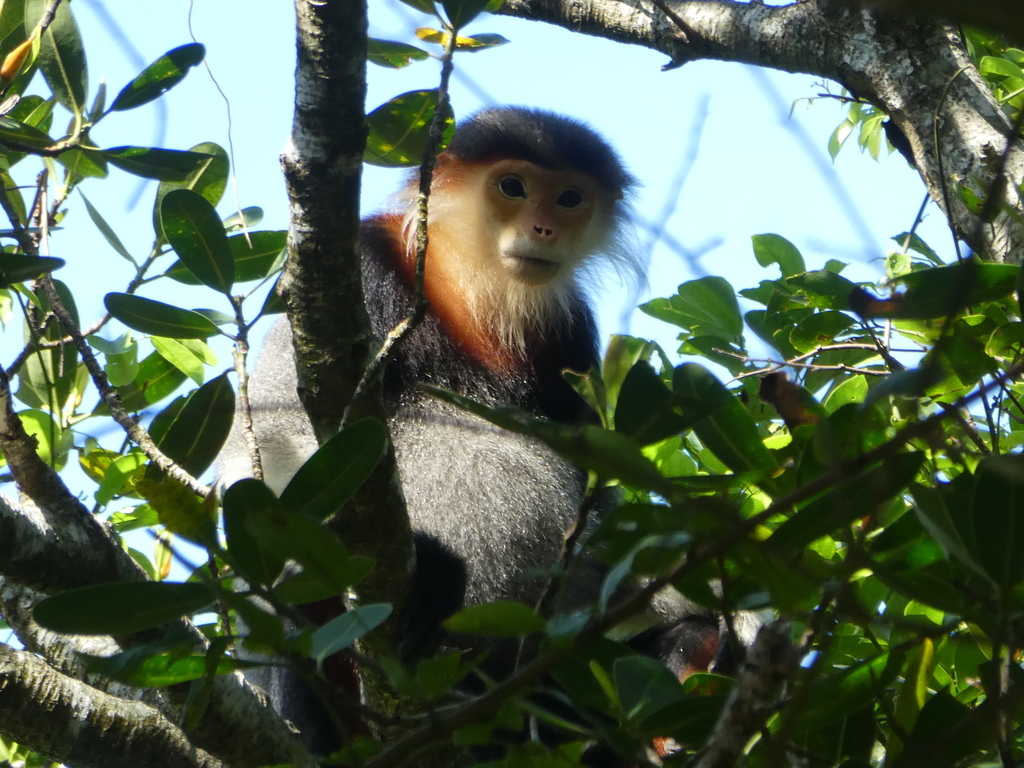 On the way to Ban Co Peak we saw one flash in the trees. "Stop," we hopped out the car and watched and listened. They were expressive and talkative. Deep "bawk" sounds filled the trees. Nervous about our presence, they moved away from the road retreating deeper into the treeline. We could hear them. Kylie heard more on the other side of the road. We peered through the forest, looking. The forest looked back.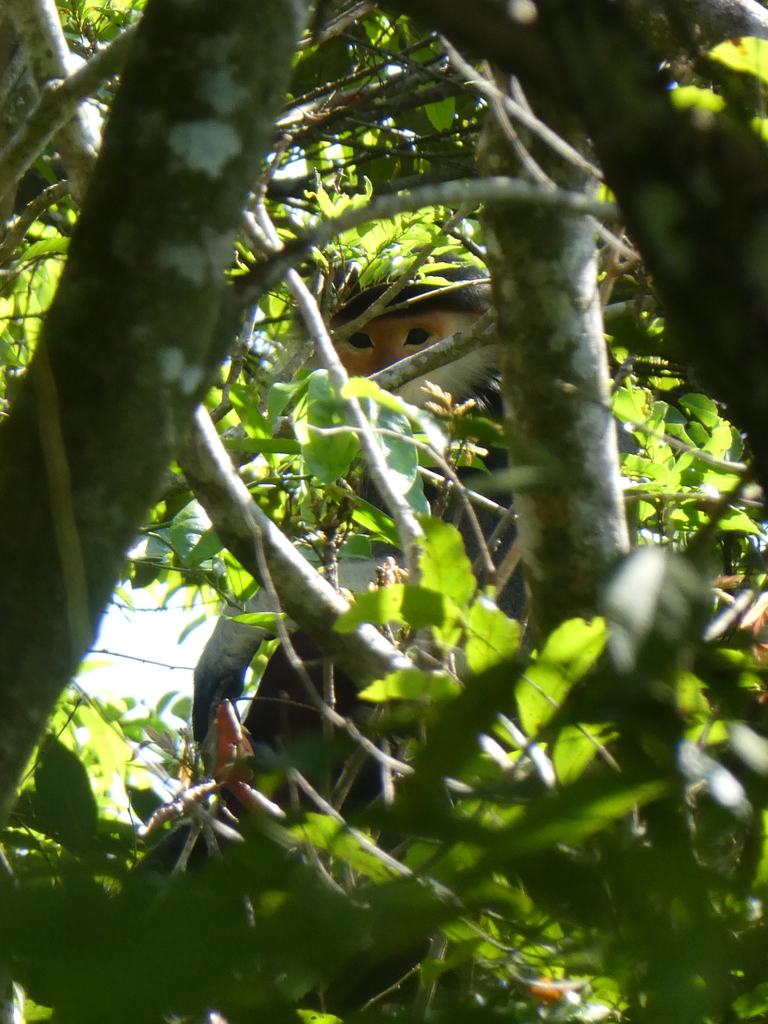 Later, while Alyssa and I were exploring, we heard the same "bawk" sounds and waited. Some trees rustled and soon we saw a giant black hand reach out for leaves.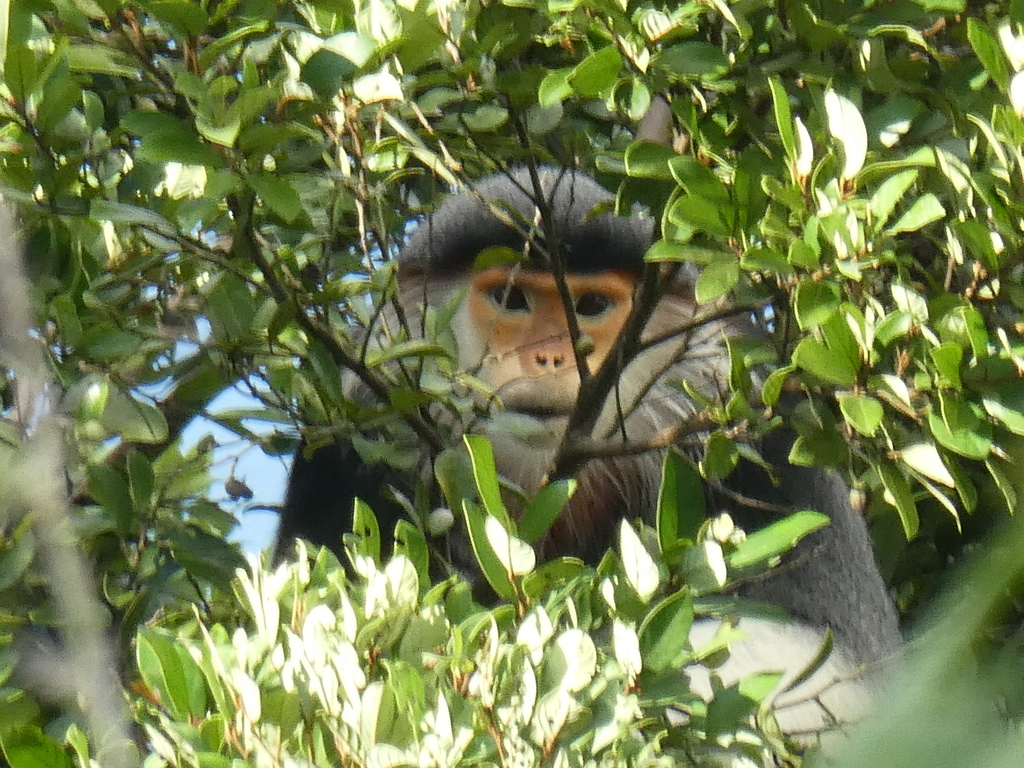 Along with the "bawk" sounds we heard clicks and pops. A young monkey came out on the branch to feed as well, looking at us from time to time.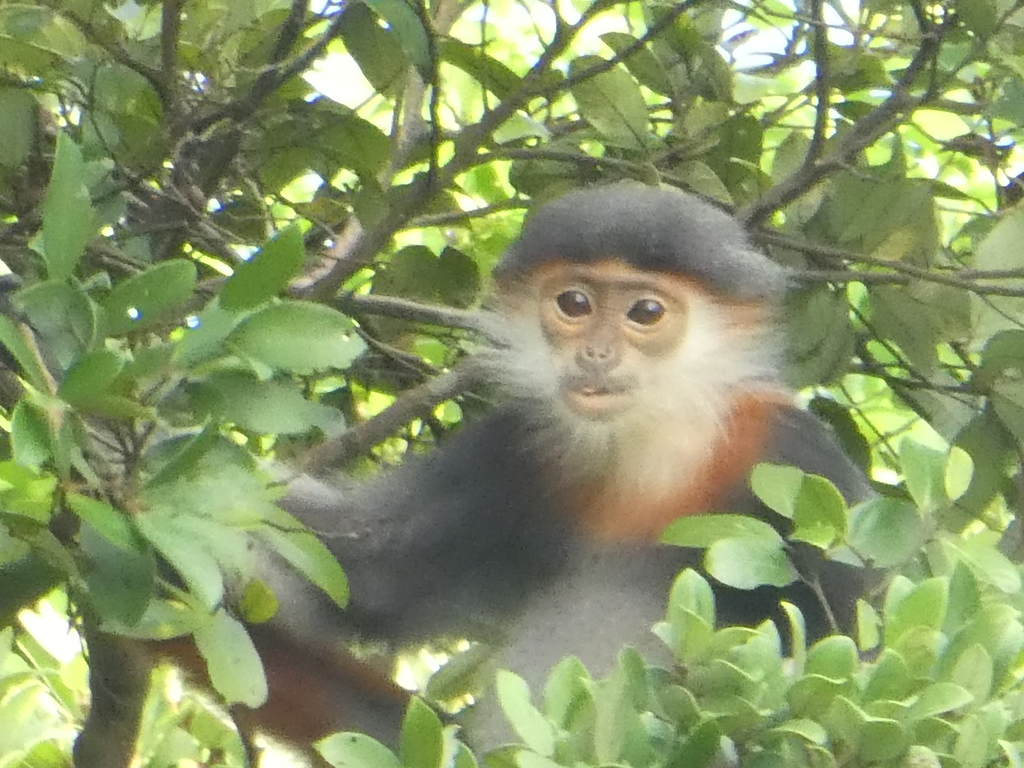 It was a special moment. To see wildlife was a privilege. To see an endangered species with dwindling numbers was a gift. To have them trust us enough to eat while we watched was an even greater gift.
Given the status of many of Vietnam's forests (New York Times reports on the status of Vietnam's wildlife and forests) we were extremely lucky to see these incredible animals, not once, but twice!
GreenViet
A shining emerald star exists in the fight to save this glorious gem of biodiversity: Greenviet. It was the brain child of a group of researchers in 2006. It recently opened a beautiful education facility. There are three core principles that guide their work: Research, Policy, and Community Involvement.
With a foundation in research they support ongoing projects to validate, measure, and track the biodiversity within the Son Tra reserve. Aside from tracking the health of the Red Shanked Douc Langur population, they also facilitate and lead scientific missions within the park.
A major threat to the biodiversity has been habitat loss. Son Tra is prime real estate overlooking the city. Resorts frequently try to obtain land and build. GreenViet partners with the local government to help limit that development. In fact, Sun World tried to obtain land to build a giant theme park on Son Tra and GreenViet's lobbying helped prevent that from happening. Another policy project they are working on is building a green corridor that links east and west Son Tra (article here) to preserve the genetic diversity of animals on both sides of the divide.
What impressed us most was GreenViet's focus on community involvement. This organization was homegrown. Donors are local Vietnamese people who care enough to invest in the preservation of Son Tra. Supplies and expertise come from the Vietnamese. There was no outside NGO pulling strings.
Equally impressive was their efforts to win the hearts and minds of people to care about the outcomes in Son Tra. They frequently go into classrooms to teach the next generation of decision makers about the importance of biodiversity within Son Tra. They also taught disabled and disadvantaged youths. Additionally, they developed numerous billboard campaigns around Da Nang about Son Tra. This generates excitement for saving it. It's working. In one example, the receptionist at our hotel said: "I very much care about the environment at Son Tra, I go there to enjoy the view, the shade, and the monkeys. I know GreenViet." Their new interactive education center has received over 2,000 guests since opening eight months ago. It allows people to learn about Son Tra's Red Shanked Douc Langurs, seasons, plants, birds, and challenges to the biodiversity. There were tactile activities as well as games for a diverse learning experience. The entire center was adorned with beautiful pictures and art from the local community.
At this facility we had the pleasure of meeting Kim Kieu Luong who walked us through the exhibits and helped us understand the good work that GreenViet is doing.
The main threats to the Red Shanked Langurs are poaching (as some people believe they have medicinal properties), habitat loss, traffic, and garbage. Rangers, which are separate from Green Viet, help patrol to clear traps and snares. Greenviet has organized community trash pickups, and informational signs to try to address each of these issues. (Traps and snares are wreaking havoc across southeast Asia according to a news piece by CNN: Click Here).
"What happens when the rangers confiscate a Douc or if they find an injured Douc?" Alyssa asked.
"They give it an animal rescue for rehabilitation."
GreenViet provided a great example to both Kylie and Alyssa of how grassroots community action can have large impacts. Wildlife may be at risk throughout Vietnam, but it is good to know that the people at GreenViet are fighting the good fight to preserve it. It was inspiring to meet them!