Cat Ba is a small island off the coat of Northern Vietnam. It is just South of the much more popular Halong Bay. In her research, Sharleen found that Cat Ba offers just as much as Halong Bay, with a fraction of the people. She was right. The ferry from the mainland took our bus over the straight and our bus took us to Cat Ba center after winding around the steep and curvy roads. It is the largest of 367 islands that make up the Cat Ba Archipelago. It was a sleepy community with under 13,000 residents, 4,000 of whom make their home on floating fishing communities. That said, it was clearly set up to service a tourist population and looked a little like coastal resort town. Cat Ba got its name from the women who used to wait on sandy beaches for their husbands to return from fishing. Not any more.
Cat Ba Biosphere Reserve was designated as a Unesco World Heritage Site in 2004. Being an island it has a variety of endemic flora, fauna, and animals. I was most excited to search the national park for the critically endangered Cat Ba Languor of which only 60-70 exist in the world, all of which reside on this island. There were caves, trekking, and cruises. We wanted to make the most of our time.
We got an early start taking a bus to the harbor. From there about 20 of us got into small boat with two floors. Tables were on the first and a sun deck with some shade on the second. The cruise took us first to Monkey Island (dao cat dua). There was a handful of macaques stealing whatever they could from tourists. Apparently there is no food for them on the island and they have to fend for themselves. I could not find any information on them, but given the relatively small size of the island I believe somebody probably imported them there and let them roam to add to "quality" of the island and attract tourists. I climbed to the peak of the island for some views while Sharleen and the girls played on the beach. The climb was harder than I thought and at times required a bit of rock climbing. The jagged limestone crevices made for hard climbing without boots.
After a few pictures, we were back on the boat to explore the bay. We went to and fro between the large karst formations that rose out of the water. We could not help but make connections between these formations and the ones we saw in Shilin and in Mulu. We stopped at the boarder between Lan Ha Bay and Ha Long Bay and had some lunch. The views are stunning. The process of erosion is outlined here.
For those in chemistry interested in what is happening:
The chemistry of carbonate stone dissolution is treated in numerous texts (3-5), and carbonate stone weathering has been reviewed in several books (6-8) and review papers (9-10). Under equilibrium conditions, the incremental impact of hydrogen ion in pH 4.0 rainwater on carbonate stone dissolution is expected to be small because the equilibrium solubility of calcite is dominated by its reaction with carbonic acid derived from atmospheric C02 that has dissolved in rainwater. -Thank you USGS
CaCO3 + H2CO3* = Ca2+ + 2HCO3– (1)
H2CO3* = CO2(aq) = CO2+ H2CO3 (2)
Kayaking was next. We befriended a family from Switzerland, so Alyssa teamed up with their oldest daughter. Sharleen teamed up with their mom, and I teamed up with Kylie. This was the perfect outlet for Kylie's energy. She paddled like motorboat….even when I asked her not to. We had time to explore three caves and various shorelines. We even saw the near threatened giant black squirrel. As it ate palm nuts, they fell on our kayak!
In one case, we saw the near threatened Black Giant Squirrel. Black Kites flew overhead fishing, Pacific Reef Herons perched on rocks fishing. It was amazing.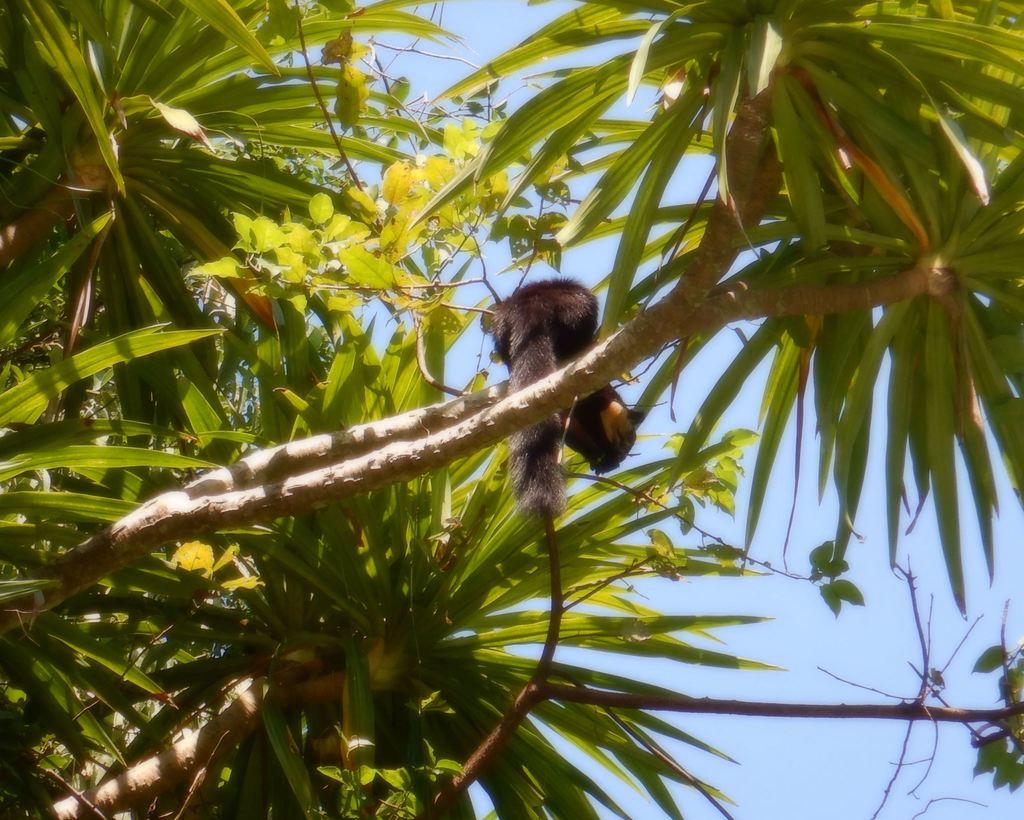 It was time for our next destination, swimming in the bay. We headed to an inlet where the current was not as fierce and everyone jumped in, some even from the second deck. Although they offered snorkeling gear, there was not much fish or coral to see. There were some small jelly fish and luckily they didn't sting.
On our way back, there were far more boats in the bay then in the morning. It was explained that many of the tourists come here from Hanoi for the day. They do the four hour drive, then do a half day boat excursion. Staying in Cat Ba gave us an extra four hours of less people. It was also off season.
The next stop was a fishing village. We didn't get to walk on them or ask questions, but motoring through their community provided a glimpse at a very different lifestyle. The community lives right on the water and only goes to land to sell their fish and get supplies.

Our seven hour excursion into the biosphere was jam packed and everyone was tired. My knee was aching and I could barely walk. I was super disappointed as that meant I could not do the Cat Ba National Park excursion I had been looking forward to. Oh well, I suppose there will be some other amazing thing that Sharleen found for us in the next place.
The girls had a chance at trying some local delicacies – snail.