The Daintree is the oldest forest still existing.
Aspin Forest Utah: 1 Million years.
Kakamega Forest: 2 Million years.
Réunion National Forest, Madagascar: 2-2.5 Million years.
The Amazon Rainforest, South America: 55 Million years.
Taman Negara, Malaysia: 130 Million years.
Borneo Lowland Rainforest, Indonesia, 140 Million years.
Daintree Rainforest, Australia, 180+ Million years.
(At least according to this site). It is also a UNESCO world heritage site. Going back 180-270 Million years to the time when Pangea just started to break up, making it not only ancient, but the last vestiges of what forests were like from a time long gone. A great graphic depicting the timeline of life in the wetropics (click here). There are few apex predators and the density of the forest makes it difficult to spot animals or birds. We got to see the southern end at Wallaman falls, the cloud forests part at Kuranda, the cultural lands and deep gorges of Mossman, and the mangroves and coastal aspects of the Daintree from the Daintree river to Cape Tribulation.
Dubuji Boardwalk
This was an easy walk through a mangrove forest where the Daintree meets the sea. Flat and easy, with a floor littered with quandongs, we were privileged to see a red-legged pademelon and another cassowary.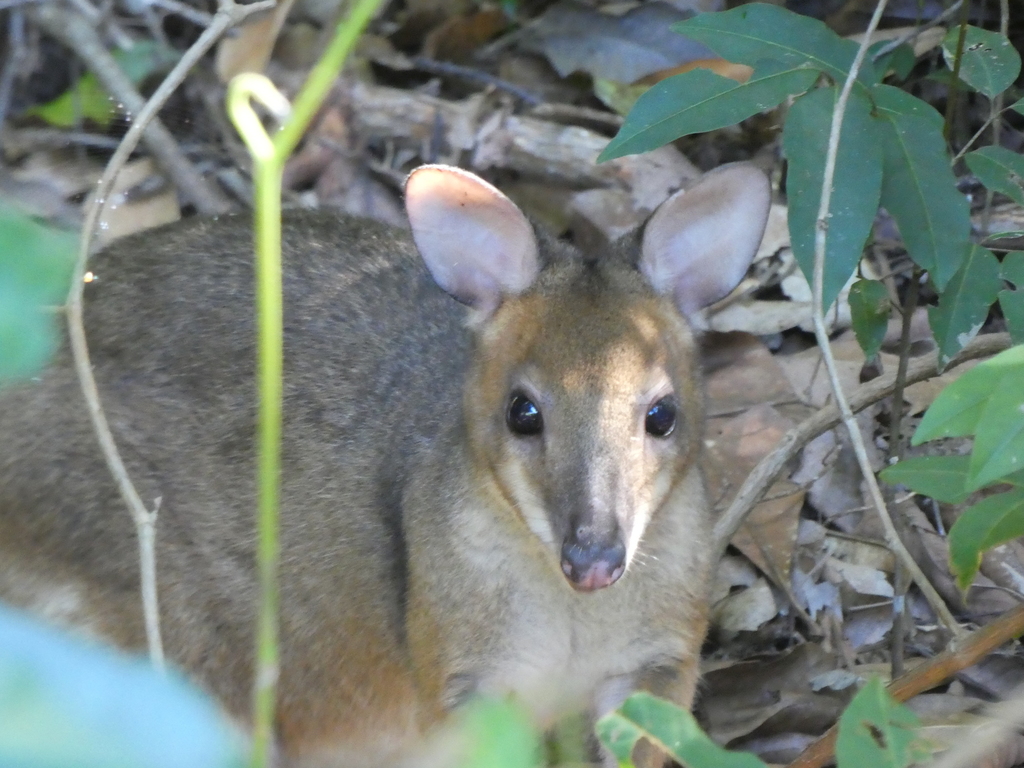 | | |
| --- | --- |
| The fan palms of an ancient forest | Two girls who are fans of fan palms |
We hit the boardwalk around noon time so birds were not active. But seeing mangroves work there magic was really special. We looked hard for a tree kangaroo, but didn't see one. Sharleen and the girls were both taken by the serenity and antiquity of this small corner of the forest.
Jindalba Boardwalk
We took the short track on this walk and were treated to a serene creek sounds and some of the prehistoric fauna in this ancient forest. Ferns and Cycads were plentiful.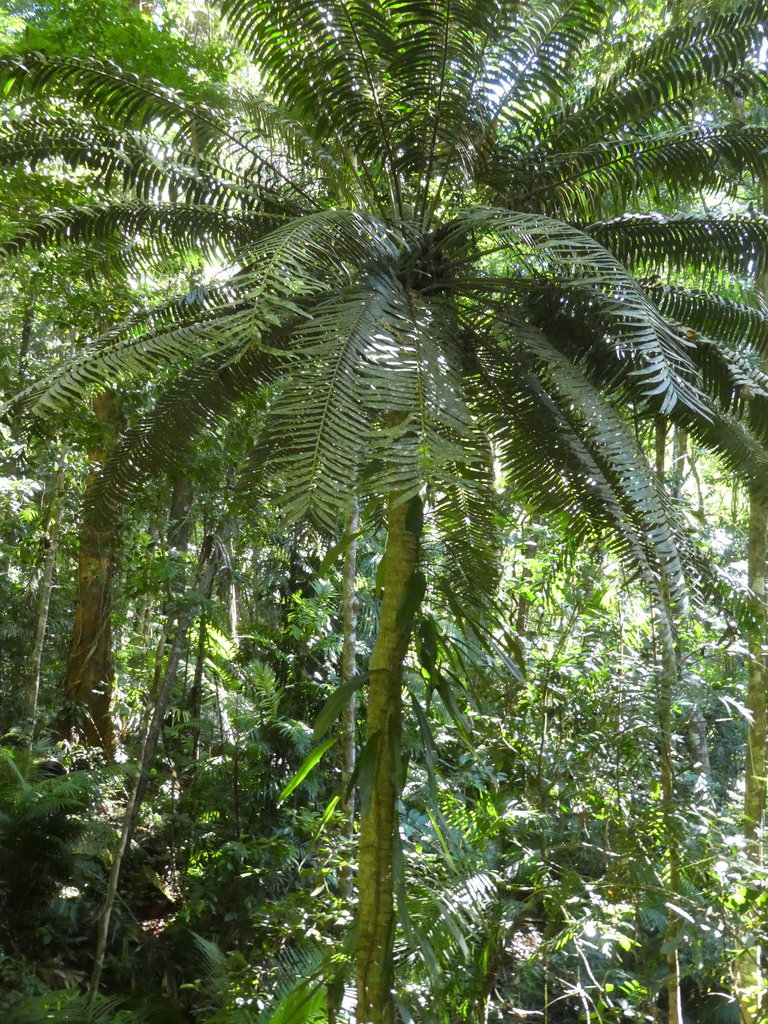 Daintree Ice Cream
Just up the road from the ferry is the Daintree Ice Cream factory (click here). They have an incredible business model. Aside from living off the grid, they make their own ice cream with 98% of the ingredients grown right on their farm in their orchards. Touring the orchards we saw many of the exotic fruits.
We talked with Dave and as a small business owner who is trying and succeeding at creating a sustainable model for business, he indicated he really has his hands full. They just have enough fruit for the demand. On site he said they have specialized equipment for each of the different fruit. For example Mangosteens are mashed through a giant colander, and coconuts are shredded with a claw-like shredder. The ice cream flavors are seasonal and the flavors available to us were davidson plum, wattle seed, soursop, black sapote, coconut, and mango. They offered ice cream and vegan sorbets. We each had a sampler and words can't capture how good it was, but these pictures might.
| | |
| --- | --- |
| Davidson Plum, Soursop, and Mango sherbet. All good! | Ice Cream on the left, sorbet on the right….All good! |
More than growing their food that they serve, they also serve the food in vege-ware. So when customers throw their food cups and scraps away, they grind it up into compost for their orchard. Also, if you didn't notice, metal reusable reusable spoons to avoid plastic waste. What a great place. It is possible to have a sustainable profitable business. It was good to see an example of this.
Leaving Australia
We had come so far and packed so much into our short time in this wonderful country. We stopped by Red Cliff Rock to leave our mark. Rock pilings like this are used in the back country to help hikers give notification about path direction. In some areas that is a gateway to somewhere special, people pile rocks like this to either leave their thoughts or make some wishes for their future. We all contributed to a pile.
We made the most of our time. We plunged into the coral sea to experience the Great Barrier Reef in two locations. We walked amongst the ancient rainforest of the Daintree. We learned a little about the oldest continuous culture in the world at Mossman Gorge and the Kup Murri feast. We feed kangaroos and emus, saw cassowaries, learned about sugar cane production, and met some truly amazing people. We ate kangaroo, emu, crocodile, and barrumundi. Thank you Australia for letting us experience some of your treasures.