Often when people think of Australian wildlife they think of Kangaroos. After driving 600 kilometers along the Bruce highway, we finally saw wild Kangaroos in Yeppoon.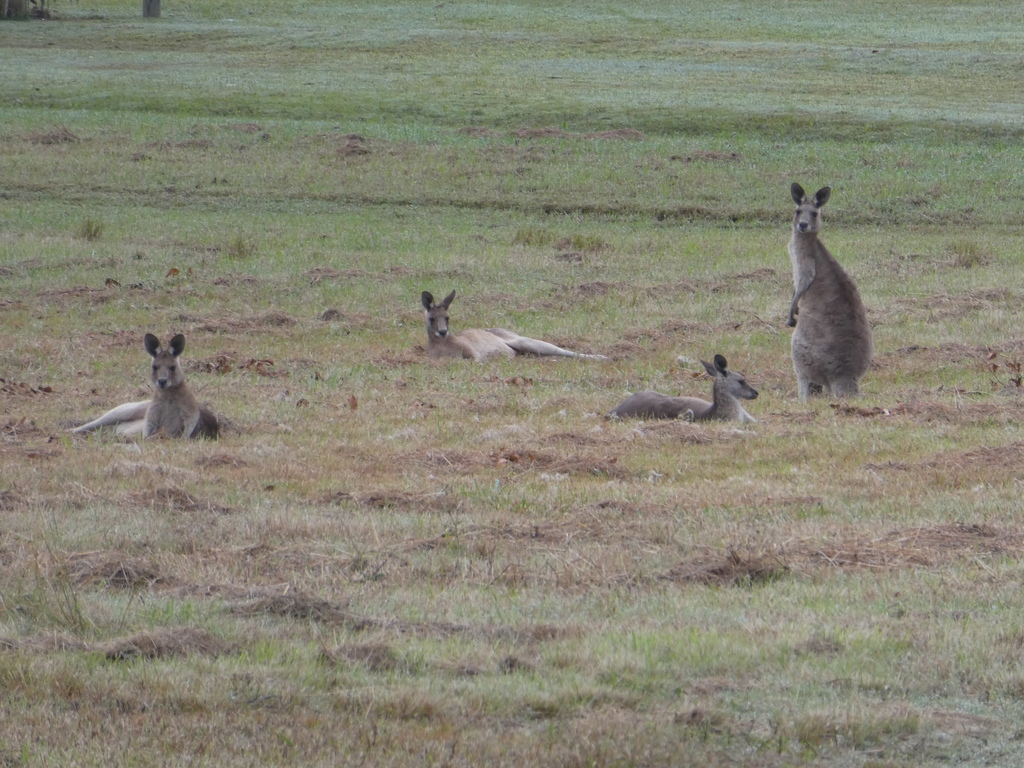 Cooberrie Wildlife Sanctuary
As a surprise for Kylie's birthday, we took her to Cooberrie Park Wildlife Sanctuary. Animals make their way to the park as either confiscated, donated, or injured and unable to return to the wild. Also, in the back paddocks they rehabilitate nearly 150 sick, injured, or orphaned wild animals that will later be returned to the wild. So, if not for a place like this, many of these critters would be euthanized. There was strong diversity of animals present (bush turkeys, cassowaries, peafowls, ducks, chickens, crocodiles, all types of snakes and skinks, parrots, macaws, cockatoos, dingos, bettongs, lorikeets, wallabies, kangaroos, wallaroos, koalas, sugar gliders, emu, wombats, goats, donkies, and some tiny monkeys).
We got there at opening time and the morning staff went about feeding all the animals. However, there were some animals that were more than happy to see us and our bags of food: Kangaroos, Peafowl, Emus, and ducks. A frisky emu greeted us first. Although a bit intimidating because of its size and intense look, we warmed up to it. This emu found me particularly attractive and showed me it best moves and followed me around the park. (A video may or may not exist of this emu courting me)
Seeing a kangaroo is one thing. Having it grasp your hand and eat gently out of yours is completely another.

Everyone had a different reaction. Kylie was so focused and intentional when feeding. Alyssa was far more emotive. Sharleen was so happy to be doing this again. And I was so surprised at how gentle the roos were.
Most of the animals let us pet them. The wallaroos were much softer than the red kangaroos. And the emus were surprisingly soft as well. Kylie found a guinea pig to pet.
In the afternoon they had a wildlife show, where they brought out different animals and educated us about them. There were several birds, skinks, a sugar glider, and a snake. But the Koala was clearly the star of the show. We petted and take a photo with her.
Koalas
| | |
| --- | --- |
| You lookin' at me?! | |
The Koala Bear is listed as vulnerable by the IUCN Red List (Click Here). It is only found in four of Australia's six states, and as of 2008 their population has declined 28% in just 18 years. According the Koala Foundation Habitat loss is biggest culprit. This 2018 map (click here) compares the remaining numbers of Koala in each region of the the states with the amount of habitat loss. The numbers are stunning
Koala's are now extinct in 22 of 51 regions in NSW
Koala's are now extinct in 14 of 38 regions in Victoria
Koala's are now extinct in 1 of 11 regions in South Australia
Koala's are now extinct in 1 of 30 regions in Queensland
In all states multiple regions exist with less than 20 Koalas, and less than 10% of habitats remaining. This lovable bear gets lots of press. There are multiple regional, state, and national efforts to curb the loss of this Australian icon. Perhaps winning the hearts and minds of people at places like Cooberrie Park is a great place to start.
Yeppon Beach
This was a wonderfully laid out area with long boardwalk and kid parks along the way. The expansive beach was perfect for families. The beach is highly populated with sand bubbler crabs. These crabs feed sand into their internal filtration system to gather any tiny food bits and then ejected a small spherical ball of sand. The beach was covered in these small balls.