Day 14,15 ( 7/12 – 7/13)
I was cold all night.  Luckily the wind wasn't bad.   Going out to see the lake told me how cold it was.  The lake froze over in the night, and I saw a tent at the far campsite.  Someone else caught up with me, or finished Muir pass.    I wasn't social.  I hurriedly packed up and started up.  It was up right away.  My crampons were on, and I slogged forth.   I was starting to not like hiking in the snow.  Quickly, my feet became wet, but not chilled, as I worked them.
The snow was deep and the rock outcroppings were few and far between.  I came to a lake and stopped to determine if I was at Helen lake yet.  Nope.  Not even close.  I kept going.  I hit a small rock outcropping with a space cleared away for a tent.  That would have been hard, I had made the right call camping where I did.  Down into a gully.  The sun cups here were huge.  I fell a few times scraping my hand on the jagged ice.  I was in a bowl, and disoriented.  I could not make sense of the map and where the pass was.  The map had the trail going on the other side of the lake, and I was no where near that.  I kept following the boot tracks ahead of me.
The air was crisp and blue, everything was bright, and I was exhausted.  I stopped frequently checking the map to see if I was there yet.  Then this:
High altitude euphoria is real.  At 12,000 feet I was overcome with elation and joy at reaching the summit and intense longing for my family.  Out of the Muir hut climbed Nosebleed.  He had passed me a day ago, and I can't believe I caught up with him.  He told me there were nine people inside including the 18 year old woman who I had met a few days ago.  Also inside a couple that passed me yesterday.  It was early morning, probably eight-ish.  I took a peek inside and some were still sleeping.   Nosebleed left a note and put it under a rock for the two Canadians on their next meeting point, we had a conversation about getting emotional on the trail, and then he soldiered on.  I took a few more minutes, and then followed.  Going down through the snow is different then up.  Seeing a destination and getting there is different than not knowing how much farther to go.   Consequently, my spirits and my gait were up.  Down the side, over frozen tributaries, a frozen lake McDermond, past a frozen Wanda Lake and down by a frozen Sapphire Lake.   All through snow with only three rock outcroppings.
I slipped down into the Evolution basin.  The creek was swollen by the time I got there.  The water level was over the boulders that marked the path.  My feet were already soaked from trudging through snow, so I crossed the inlet.  It was only knee deep but the water's chilled me a bit.  The evolution basin was stunning, and I regret not taking more pictures.  By now I was pretty tired, but knew I had to press onward if I wanted to hit McClure meadow before nightfall.  I couldn't find the path.  Tracks let into different directions, to a campsite, lakeside, and up along the high point of the valley.  I decided to go high.  In and out of snow, there was mostly mud.  My favorite vision was rounding the bend and seeing the edge of the lake with nothing beyond.  It looked surreal.  A lake on the edge of nowhere.  I encountered quite a few SOBO hikers and we exchanged information.
I neared the end of evolution lake and looked back at the pass.  The water was serene.  My body ached.  I walked up to a sand spot and started to unload my pack to take a dip.  My chaffing was starting to hurt again and the dip might help.  I then changed my mind.  A dip meant about an hour, which would keep me from hitting McClure Meadow.  I was already two days behind. I forged ahead.
From here I started to run into people more regularly.
First two older men in tie-dye shirts and beards.  "We've both got hammocks.  Are there were any good trees by Sapphire lake"
Me: "Well, there's a lotta snow and no trees, if I were you, I'd camp at the end of Evolution Lake."
Just a bit later I saw a Japanese man carrying the largest pack I'd ever seen.  The man right after him, said that he's been hiking like a champ since the MTR, and the pack weighed in at 80 pounds.
As I started the zig zags down it turned into spring again.  Lucius green, purples, and yellows everywhere.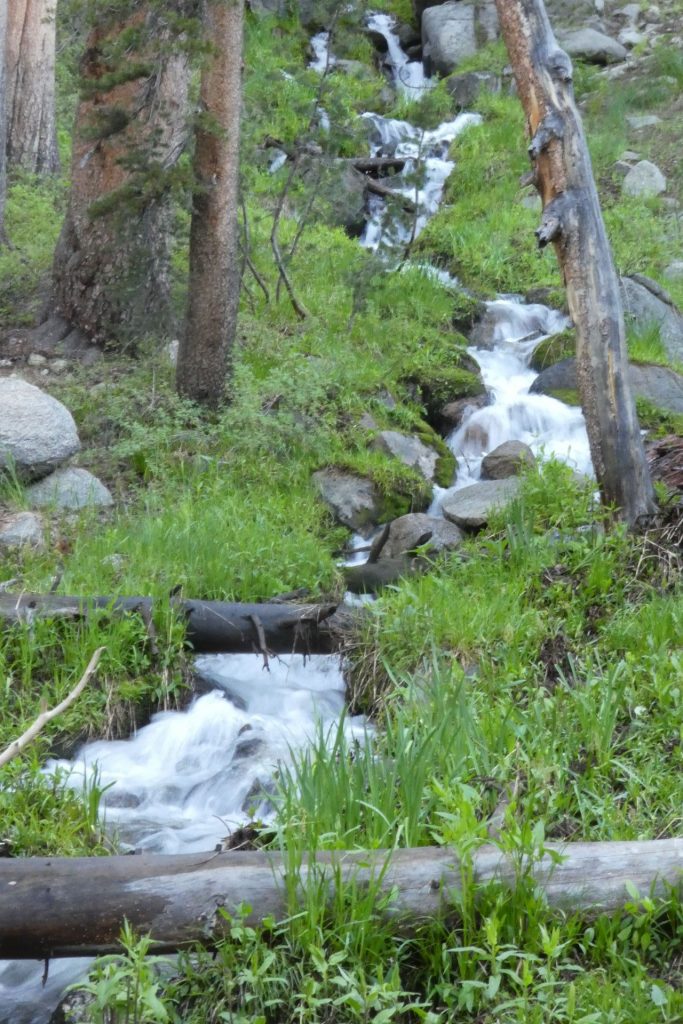 As I finished the descent, there were more mosquitoes.  Stopping to rest was more problematic.  My chaffing was hurting pretty bad by now and I wanted to rest.  But there were not spots.  I came across an Asian couple.  The wife was sitting down pouring over the map, clearly tired and seemed not be be enjoying her outing.  In jest I said: "Are you ready for the snow?"  They appeared in shorts only, with smaller packs. No ice axe, no crampons.  They did not look ready for what was ahead of them.  The husband kind of shook his head at me as if to say: "Don't say that…", she looked up:"Snow?!!!!"  I then quickly retorted: "Well at least there will be no mosquitoes."  And continued on.  I felt like the hardest part of the trip was done.  Muir pass was the last pass above 12000.  Glen and Mather were behind me as well.  I felt light in the foot.  I'd hit my food drop tomorrow.  I kept at my map.  Where could I camp.  It was all too marshy, to hilly, I saw nothing.  The sun was getting low in the sky, and finally, I decided to walk off the path towards the creek.  I found a spot.  I pitched my tent, and took a dip in the creek.  I washed everything, and skipped dinner as the mosquitoes were everywhere.  I didn't close my tent well earlier, so had to spend about 10 minutes killing the evening assassins.  I swabbed my chaffing with alcohol, bandaged up, and drifted off to sleep with the raging evolution creek by me.
Not bad! 12 miles for the day: 1200 of gain, and 2350 feet of decline.
The next morning I awoke thinking about Evolution Creek.  I had to cross it today.  I knew I had to rush to get there before it became to swollen.  My experience with South Fork Kings was still fresh in my mind.  I hit the trail, and realized I had actually made it to McClure Meadow, the tip end, but I made it there.  Cool!  I meandered through Evolution valley.  Through wooded marshes and creeklets towards the creek crossing.  I really felt like I'd see a bear here.  I looked as much as I dared keep my eyes off the trail.  I saw deer, squirrels, birds, but no bears.  This disappointed me slightly, but not for long as I came up tot he creek crossing.  I changed to my river shoes and took off my pants this time.  The first part was only thigh deep.  No problem.  Then an island, then I saw the rest of the creek.  There were people on the other side drying out.  I surveyed and just did it.  Slowly, inched across by side step.  Facing up stream with my poles providing the tripod for my crossing stance.  The water crept up my thigh, past my waist, and was soon just over my gut.  The current was gentle, and I wasn't afraid.  The cool water felt good, and before I knew it, I was easing up to the other side.  I sat in the sun, dried off with my bandanna, put my pants on, and then my shoes.    The other couple was still there.  They had a hard time crossing.  She apparently fell in and went under.  She threw up and was brushing her teeth.   As I readied to go, a group of six young men approached, they proceed to take their pants and shirts off, put their bags over their head, and marched straight through.  I warned them about South Fork Kings and made my way North.
The area after the meadow was marshy, and as my feet were dry I spent a lot of time taking care not to step in muck and puddles.  I passed the the normal trail crossing and told myself: "I could have crossed there." Maybe.
I could see the drop into another valley.  The outflow of evolution creek was spectacular
Down down down into Goddard Canyon.  My shoulders and neck hurt so much from the pack.  I readjusted everything and tried again.  It would last for about 15 minutes and then would hurt again.  I resorted to bending at a right angle resting my head on my poles.  I did this often, and it seemed to be the only thing to alleviate the strain on my neck and shoulders.   I could hear the South Fork of the San Joaquin river below.  It mixed with the Evolution creek, and a myriad of waterfalls into the valley from across the way.  I hoped there would be a bridge.
I crossed the bridge below. It was large and sturdy enough for a vehicle.  Clearly someone drove livestock over this before. I followed along the valley and the terrain changed. It went from spring time alpine, to chapperel. Lots of Manzanita and dry hillsides were all around.  The trail was mostly gravel and rocks.  There were fewer streams coming down the mountain on the trail side.  My thoughts changed to the MTR.  Could I make it there this day? By my estimates I had hiked about 3-4 miles and had about 8 to go to the ranch.  It was mid morning, almost noon.  I had no major ups ahead of me and believed I could make it.   I passed quite a few hikers, and found myself asking each one…am I there yet?  How lame was I.  This section of the trail was my least favorite.  Perhaps it paled in comparison to evolution valley and what I had seen before.  Perhaps I was tired and anxious about my food drop.  But at long last I made it to Muir Trail Ranch.
I descended into the compound.  It wasn't bustling with activity, but there were some people there.  I rang the bell and the woman came over and asked my name.  I gave her my paper work and took off my pack.  Several people were packing their canisters and eating.  Various labeled buckets offered the opportunity to trade food: Mixed foods, soups, meats, prepacked meals, batteries, gear, drinks, etc. My bucket came out, and asked about sending an email:
I'm alive.

I'm sore, exhausted, but alive.  I have passed the most difficult and dangerous parts of the trip.  The scenery is as expected…spectacular.

I battle my backpack daily adjusting straps, but still my shoulders are killing me.  I battle my sleeping bag nightly, I like to toss and turn and mummy bags say NO.

My $20 tent is falling apart and I have little plastic pieces everywhere…in my food, my clothes, my hair……

Regardless, it is turning out to be a much more difficult trip then I could have imagined.  I am pushing myself beyond what I thought I could do.  I have had to ice ascend and descend ice chutes, traverse snow covered mountains with a 200-300 drop.  I have hiked through 10 miles of sun cups up and over Muir Pass.  I have had to rock scramble up scree and freehand rock climb.  South Fork of the Kings River almost got me….but I LIVE!

I've had some falls, and some scraps, and bruises, but I've been able to fix them myself.  I've had to!

I miss Sharleen and my Girls so much.  I think about them every day.  I love you!

And I love everyone else too, but them more.

Can someone let Dad know I'm ok.

About 10 more days and I'll be home cuddling with my three favorite girls!

Love you all,

Dan
This email plus some bandages I purchased cost me $15.  It felt good to get word to people that I was OK.
I dragged my feet around MTR.  Going through the buckets multiple times.  Re-fried Beans: BIG WIN. Some Ramen: Big win.  Some sugar additive to make grape drink: Big Win.  Dried cranberries: Big Win.   I saw salami, salmon, meats, all sorts of trail mix.  Energy Bars, candy bars, granola bars.  Some PCT hikers came in without their packs and raided the food, stuffing all their pockets with bars and edibles and left.  I thought that classless, but then, they were doing much more of a hike than I was and maybe they were more in need.
I exchanged stories with some of the hikers.  Five Gallon buckets worth of food do not fit into an average bear canister.  There were lots of left overs.
I packed it up and weighed my pack: 50lbs.  What the heck.  Greyhound said 40lbs.  I weighed it again and looked for a weight offset.  How did my pack get so heavy?  Dismayed I headed out.  The climb out of the MTR junction was steep, and I was tired.  Every step I thought about my 50 pounds.  I dragged my feet and pulled my self up.  I really thought I'd make the climb back out of the manzanita land, but my body said no.  I started looking for a place. I settled for one (or what looked like one) just off the trail.   Was it 100 feet? Not really.  But I didn't care.  I needed rest.  After my nightly routine I was was excited to Talley everything up and mark my progress:
Today's Millage: 14.3 miles, 600 of elevation gain and 1850 of elevation decline.
Trip Mileage: 160 miles so far.  More than half way!  Only 1 more food drop about 60 miles away.
I fell asleep telling myself to eat more, it will make my pack lighter.
The next morning (7/14) Day 16 start:
A steep climb up switch backs towards Seldon Pass.  The two Canadians passed me.  I had seen them first at Wright Creek before Crabtree meadows.  I asked them what happened to their third, and they said he settled down with a girl somewhere.   They were haberdashers and avid hikers.  They asked me if I had seen Nosebleed, and I told them where I saw them.  I struggled up the hill.  My shoulders ached.  As I reached the top of the incline, I had a river crossing.  It was small and I found a good spot.  It was such a nice area, wooded, lush, and very few bugs.  It felt good being back at altitude.  Around me were signs of time gone by.  Old spikes and fences from a time when cattle roamed the area.  Old signs, driven in to fallen trees, so faded and old they bore no more information.
This next section was beautiful.  Meadow after meadow.  Trout filled streams.  Trees full of birds.  Warm weather.  Clean air.
Just past Sallie Keyes lakes, I hit snow again.  Arggg. By the time I hit Heart Lake, I was trudging through sun cups and a more worn path, but after scrambling up an ice chute I was at Seldon Pass.
Seldon pass was glorious.  There was no snow on the pass itself, and being close to noon I decided to take a nap.
It didn't last long, but I was certainly comfy.  No mosquitoes, and the air was wonderful.