If the measure of a civilization is the grandiosity it leaves behind, then Ancient Egypt is near the top, if not at the top of the list.  Karnak (A UNESCO world heritage site), is a massive 200 acre complex that took over 2000 years to build.  Multiple dynasties added to this complex since 2055 BC with the most recent addition coming in 100AD.
These massive structures, exactly placed, had meticulously carved hieroglyphs upon all walls and columns by hand, without mechanization, are truly wondrous.  In effect, Karnak is a giant temple to which dynasties contributed over time.  (UCLA has a nice video showing the contributions over time click here).  It is over 200 acres large, making it one of the largest temples in the world.  By comparison, Vatican City (Saint Peter's Basilica, and the Sistine chapel, and all of the papal properties withing Vatican City, take up less than 100 acres).
Hitting home the point of meticulous and how careful the Ancient Egyptians were, take the Rose Granite Obelisk erected by Queen Hapshetsut.  The obelisk was carved at Aswan.  A boat was built around it prior to the flooding season.  Then when the floods came, the waters lifted the boat and the obelisk was ferried down river to Karnack at high water times, then when waters receded, it was rolled with rollers and mud to its destination. From there, brute force was used to hoist it upright.  The timing and planning of this effort amazes me.  The amount of know-how, project planning, and execution, that would put any modern organization to shame.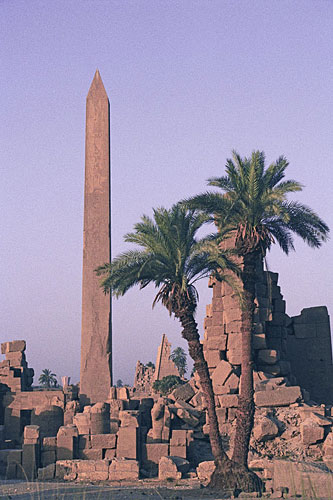 One day was not enough for this site.  I would have enjoyed more time perusing the thousands of years of history here.